Family movies at my house is an important tradition during the holidays. I was sent a new movie release to check out and share with you today.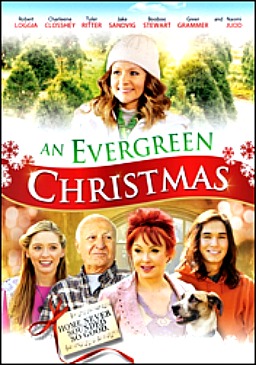 Synopsis:
Leaving her seemingly glamorous life in Los Angeles behind, Evie Lee returns to the small town of Balsam Falls, Tennessee and her family's once-thriving Christmas tree farm to attend her father's funeral. Once there, she's faced with a crippling inheritance tax that threatens the very existence of her childhood home. Torn between the illusion of Hollywood and the charms of her hometown, she must now decide where she truly belongs. Charleene Closshey stars amidst a colorful cast including Robert Loggia, Tyler Ritter, Booboo Stewart and Naomi Judd in this heart-warming musical holiday tale about facing your past, rediscovering your voice, and fulfilling your dreams.
My Thoughts:
This movie already started on a sad note. But, such is life. The movie buds several different romances, which was sweet and it lightened the mood. There were a lot of little bits of humor as well, which was nice.
I was proud of Evie for reacting the way she did. It was hard to lose her father, and hard to also face losing the family home. She was conflicted and I thought she chose wisely. I am glad she didn't fall into the pressure of her boyfriend Chez and run away back to the city life. It wasn't for her, she knew she didn't fit there.
She's a hard worker, and cares for the Evergreen Farm. I admired all those who helped her along the way; it shows the true meaning of gratitude, friendship, and love. It was a lovely story about compassion. I love Christmas movies, and this one showed the beauty of Christmas and reminded the Reason for the Season.
There were so many great actors and actresses in An Evergreen Christmas. I recognized many of them from other movies and/or television shows. The film seemed very natural and not obviously staged. The plot was very plausible and realistic. Sadly, many family farms can get overrun and taken up by the corporations. The storyline was typical in the 'Happily Ever After", which, who doesn't love that?
This movie is a wonderful family movie that is good for almost every age. It is rated PG, since there are some thematic elements and brief language, but nothing really inappropriate. My niece liked it, she enjoyed the musical features throughout the movie.
Overall, I am very joyful to have received this DVD of An Evergreen Christmas. I enjoyed An Evergreen Christmas greatly. It had me crying, and at other times laughing. It was a great movie and I recommend it.
Enter to Win
One lucky winner will receive a copy of An Evergreen Christmas to enjoy with the family! Details below.
Giveaway Details: This giveaway is open to US Residents age 18 or over. You must complete the Mandatory Entry in the tool below to be eligible. This giveaway will close on December 1st, 2014 at 11:59pm EST Time.

Disclaimer: Ruby Santiago has received no compensation for this post but was given free product for purpose of review. Her opinions and words are her own. Your thoughts & opinions may differ. Please read our Official Rules before entering this giveaway. We must receive all entries by the end date of the contest and the odds of winning are determined by the number of entries received. No purchase necessary to enter. All Content on this site is Copyright of the Two Classy Chics All Rights Reserved