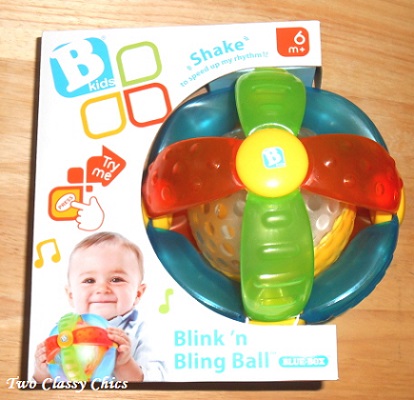 Sometimes the hardest people to shop for are young kids…especially babies. You never know what they have, what they will like and you definitely want to buy something that is fun to play with.
B kids is a company that makes all kinds of fun toys for the little ones! What is really cool is that all of their toys are designed for the parent and child to experience together…creating lifelong playtime memories!
The company sent me their Blink 'n Bling Ball to review for all of you. My god son is 6 months old and I will be giving this item to him for Christmas. It is made for children 6 months of age and older. It comes already with the batteries pre-loaded into it, so you don't have to buy any of those!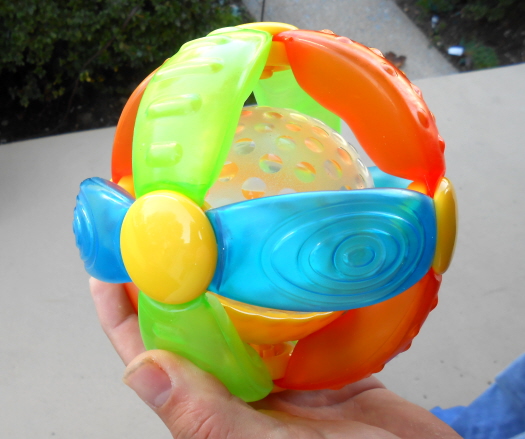 This ball is designed to engage a child's senses, help to increase their physical development, improve hand-to-eye coordination and is just plain fun! The ball plays music and lights up…to speed up the rhythm the child simply shakes the ball.
It is perfectly sized for a little one's hands and it is light-weight. The rings that go around the inner ball are squishy so your child can squeeze them or even "nibble" on them when they are teething. They are also textured with ridges, circles and bumps for a cool sensory experience.
Your child can toss it and/or roll it around on the floor. It won't hurt your furniture and more importantly, it won't hurt your child! It meets all safety standards. We think it is super fun and tried it out ourselves…we know Nico is just going to love it!
B kids, innovators in the development of classic and educational toys for infants to toddlers, teams up with Room to Grow this holiday season to help children in need. B kids will donate a portion of its toy proceeds from specialty retail partners. Help us spread the word!
* This post contains affiliate links. If you make a purchase, we may or may not receive a small commission which helps to support this site. Thank you!

Disclaimer: Shelly has personally reviewed the product listed above. Shelly has not received any monetary compensation for her review. Shelly did receive a free product to try out so she could evaluate and use it for her review. Her thoughts & opinions in this review are unbiased & honest and your opinions may differ. Thanks!