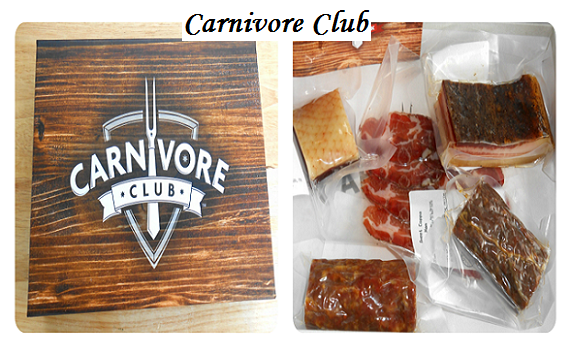 ** 2014 Holiday Gift Guide **
The holidays are just around the corner and many of us will be entertaining friends & family members throughout the holidays. It is a time of the year when we all get together for food, beverages and fun!
Today I want to talk to all of you about holiday appetizers and how you can whip up quick appetizer trays thanks to the great folks over at Carnivore Club.
Carnivore Club is the ultimate meat of the month club for individuals who love meat and are looking for something a little different. It is a great club to join for yourself or to give as a holiday or birthday gift. Each month they find exceptional charcuterie hand-crafted by artisans from around the world which are delivered to your front door in a nice gift box.
Along with your shipment of products you will receive a "Meat Eaters Handbook" which will provide you with product descriptions and quirky facts about the products in the box. I love that they include preparation and serving ideas too!
For my holiday appetizer tray idea the Carnivore Club sent me a gift box full of goodies. This month's box featured special treats from executive chef & owner of Crested Duck Charcuterie, Kevin Costa who owns a gourmet meat shop & restaurant in Pittsburgh, my home state!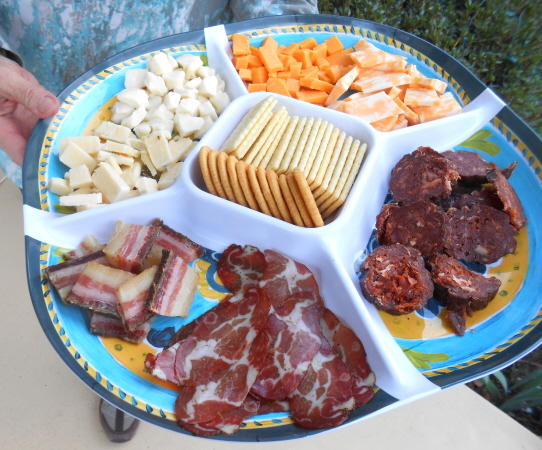 In this particular box was 5 gourmet meat products:
* Pancetta Americano – A type of dry cured meat similar to bacon. It is made of tender, flavorful pork belly and then is salt cured to perfection. You can enjoy it on its own or with a sharp, firm cheese.
* Mole Salami – is a pork salami that is cured, fermented, air-dried sausage that's hard with a great chew. The salami is seasoned with ancho chili powder, cocoa, oregano, cumin and garlic. Pair it with a mild creamy cheese and your favorite bottle of red wine.
* Duck Breast Prosciutto – uses organic duck breast cured in kosher sea salt before being air-dried. It has a soft texture and has a salty flavor…perfectly sliced thin! It can be served on a meat board, appetizer tray or pair it with something green.
* Sweet Coppa – is a meat from central Italy and is made of a whole pork shoulder, cured & aged for 2-3 months with a special blend of spices. It is juicy and has a peppery kick. Sliced paper thin. Great to add to an antipasto plate with pickled veggies and cheeses.
* Turkish Salami – If you like spice, you love this one! It is rubbed down with peppers and flavors from the Middle East to give it that true Turkish flavor. This meat pairs well with your favorite robust beer.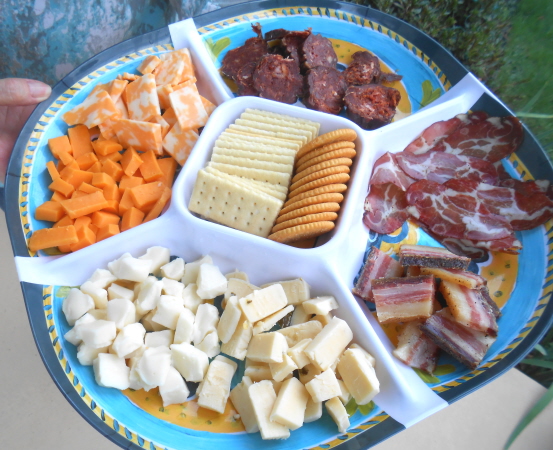 Now that I have told you all about the 5 meats I received…let me now tell you how I used them.
About half of them come already sliced which is a huge time saver. The others, I sliced up on my cutting board (thinly) and added them to my appetizer tray.
I purchased 4 different styles of cheeses and sliced those up and added on 2 different types of crackers. Everything nicely separated and arranged on the appetizer tray. All of this took me less than 20 minutes from start to finish.
We used this tray as a before dinner treat during a recent dinner party we were hosting here at our home. We also served a fresh fruit & cracker tray right alongside it.
Signing up for Carnivore Club is super easy! You sign-up, choose the plan you want and receive your box! Each shipment is different than the previous one so it is a great way to try out something new! You really have nothing to lose because you can cancel at any time.
What a great club to join for yourself or consider gifting a Carnivore Club subscription this year as a holiday gift!

Disclaimer: Shelly Hill has personally reviewed the product listed above. Shelly has not received any monetary compensation for her review. Shelly did receive a free product to try out so she could evaluate and use it for her review. Her thoughts & opinions in this review are unbiased & honest and your opinions may differ. Please read our Terms of Service & Disclaimer Policy before entering our giveaways. Thanks!