Here is a delicious recipe from Kristine for our Holiday recipe exchange! She says she makes these every year in the fall and Thanksgiving time and her family devours them! They look mighty tasty. I love both cream cheese frosting and bars, so this recipe has both! Winner!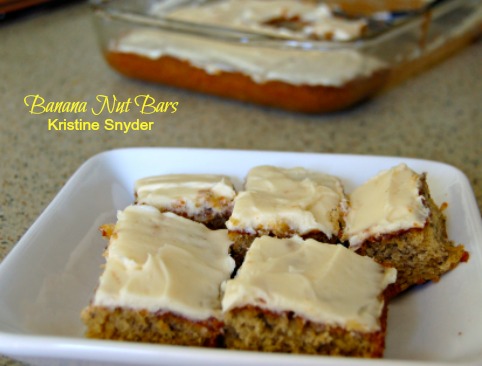 Banana Nut Bars Recipe
1 C. sugar
1 C. mashed ripe bananas (about 3 medium)
1/3 C. vegetable oil
2 eggs
1 C. All-purpose flour
1 tsp. baking powder
1/2 tsp. baking soda
1/2 tsp. ground cinnamon
1/4 tsp. salt
Cream Cheese Frosting (below)
Heat oven to 350 degrees. Grease rectangular pan (13 x 9 x 2 inches). Beat sugar, bananas, oil and eggs in large bowl. Stir in flour, baking powder, baking soda, cinnamon and salt. Spread batter in pan.
Bake 25 to 30 minutes or until toothpick comes out clean. Cool completely. Prepare frosting and spread on bars. Cover and refrigerate and remaining bars.
Cream Cheese Frosting
4 ounces of cream cheese
1/3 C. butter, softened
1 tsp. vanilla
2 C. powdered sugar
Beat cream cheese, butter and vanilla in medium bowl on low speed until smooth. Gradually beat in powdered sugar until smooth.
* This post contains affiliate links. If you make a purchase, we may or may not receive a small commission which helps to support this site. Thank you!