We often think about the products we put on our skin as women, but sometimes I forget about the products that men end up using on their skin. In many ways, mens skin is more delicate that a woman's and deserves the same treatment we would use. Soft, gentle products that are organic and made to soothe and protect the skin. My son and hubby both have delicate skin. My son, is still young and has only been shaving for a year or so and my hubby, his skin is very dry and sensitive. They were happy to be able to try and review a new line from SMB Essentials that is made to take care of a mans delicate skin.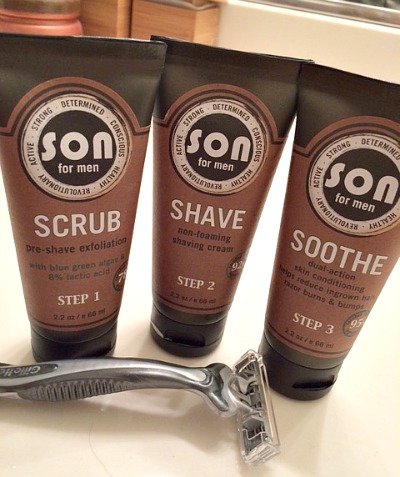 SON – Shaving Trio Set by SMB Essentials is a set of three different products that are created to work together. Made from organic ingredients, this shaving gift set includes:
SCRUB 2.2 oz (retail size) – Preparing the skin for shaving is perhaps the most important thing for a closer shave. SCRUB is a must-have when shaving.
SHAVE 2.2 oz (travel size) – With the protective slip & slide characteristic of creme, you will have the cleanest and smoothest shave imaginable. Shea Butter and natural alpha hydroxy acids help fight razor burns and ingrown hairs.
SOOTHE 2.2 oz (retail size) – This effective post-shave gel helps smooth the skin's surface and accelerate the emergence of healthier skin cells as it works to normalize cellular turnover, as well as help improve regeneration and repair. Salicylic acid helps to reduce the appearance of razor bumps, ingrown hairs, skin redness from hair removal and/or shaving.
Having two guys in the house check out this product was a plus. Since they both have different skin, it was good to see how it worked for them. Being organic, I had no doubts that the product was gentle enough for both of them.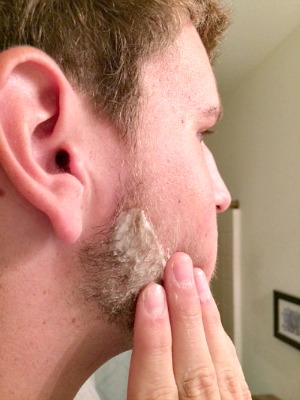 My son still will break out with acne once in a while so having a scrub that is tender enough for his face is a plus. The SCRUB is just the right start to the day although I only have him using it 2-3 times a week so as not to strip his skin. But he doesn't shave everyday anyway.
The SCRUB contains lovely ingredients like Aloe juice, Papaya extract, Mango butter and other soothing and cleansing products. It left his skin feeling so soft. My hubby also used it a few times a week with the same results. Nice and clean, touchable skin.
The SHAVE is a nice product too! Loaded with wonderful ingredients like Shea butter, Coconut Oil, Olive Oil and Jojoba oil, you know this had to do a great job with a shave. This product does not lather, but rather coats the skin and beard for a non-irritating shave. Both of the guys liked the final results and so did I. I also liked that this product is lightly fragranced. I do not care for strong fragrances.
Finally, the SOOTHE is a nice balm that they can use every day, even if they do not shave that day. It works to prevent ingrown hairs, control oil, and improve the skin tone and texture of the skin. My hubby and my son both loved the scent and the soft skin that resulted. I loved it too!
I am so pleased to find this gift set full of affordable organic items they love. You can purchase these products separately on the SMB Essentials website, as will as this nice gift set. What a wonderful gift idea for the man in your life!
Enter the Giveaway
We are pleased to offer one lucky person a SON Mens Shave Trio Gift Set to try.Cool! Here is how to enter!
Giveaway Details: This giveaway is open to US Residents age 18 or over. You must complete the Mandatory Entry to be eligible. Follow the directions in the Giveaway Tool below. This giveaway will close on October 28th, 2014 at 11:59pm EST Time.
Disclaimer: Chris Carroll received product for the purpose of review. Please read our Official Rules before entering this giveaway. We must receive all entries by the end date of the contest and the odds of winning are determined by the number of entries received. No purchase necessary to enter. Two Classy Chics is not responsible for prize fulfillment. All Content on this site is Copyright of the Two Classy Chics All Rights Reserved