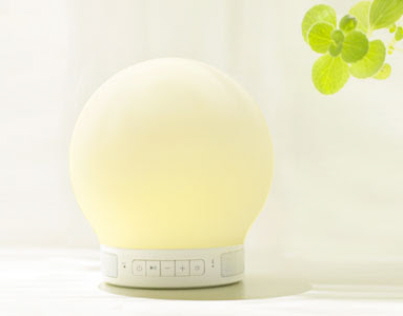 ** 2014 Holiday Gift Guide **
When it comes to shopping for men or for those who are into techie gadgeta, I am usually at a lost. That is one area that I always struggle with when it comes to buying holiday gifts.
The Smart Lamp Speaker by emoi is a clever speaker that melds the functions of technically advanced music player, a soft lantern, speakerphone, alarm clock and more – controlled with one simple APP from you smartphone or tablet. How cool is that? Totally cool!
* Use it as a bedside light or light up the night on your deck or patio.
* The Smart Lamp's speaker can be paired with Smartphone, tablet and other Bluetooth devices.
* Take a conference call or simply touch it to turn on some soothing tunes and unwind at the end of a long day.
* The compact size make it versatile and portable for indoor/outdoor use. There is a battery built in so you can take it with you.One APP controls all functions – and you can dim the light or set the alarm to come on playing your favorite tune quickly and easily.
* The light has a comfortable color temperature to emulate dawn and dusk which enhances the tranquility of the moment.
* Turn on the lamp with a simple, intuitive light touch on the soft (environmentally-friendly silicone) iconic lamp cover.
* There are three levels of lighting making it perfect for everyone – from story time to party time.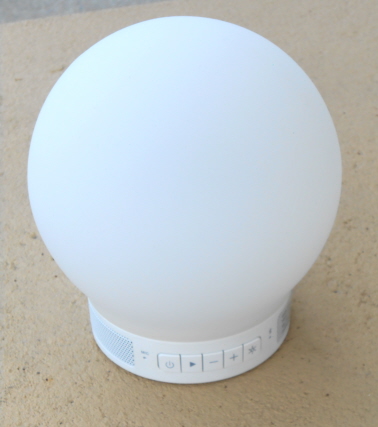 Our Thoughts: We got the Smart Lamp Speaker for review and love it! One of the things we like about it is that it is light-weight and portable. Sometimes we have it in our bedroom, sometimes down in the family room and recently we took it with us when we were traveling.
It was nice having the light beside our bed in the hotel room and we loved the alarm clock feature. In addition, hubby took a few business calls while we were there and he used the speaker phone feature for that. He was able to walk around the room, get dressed, etc. all while taking a business call.
The sound quality is amazing for this little thing! You get crisp & clear sound with no static noise at all. Furthermore, the lamp globe is made out of silicone and not glass, so don't be worried about it breaking! On top of all of the great features, it looks modern and cool sitting in your home or office.
I think this is a super cool holiday gift! I can see it being used by travelers, business people, teenagers and just those who love cool, techie gadgets like this!
* This post contains affiliate links. If you make a purchase, we may or may not receive a small commission which helps to support this site. Thank you!

Disclaimer: Shelly has personally reviewed the product listed above. Shelly has not received any monetary compensation for her review. Shelly did receive a free product to try out so she could evaluate and use it for her review. Her thoughts & opinions in this review are unbiased & honest and your opinions may differ. Please read our Terms of Service & Disclaimer Policy before entering our giveaways. Thanks!