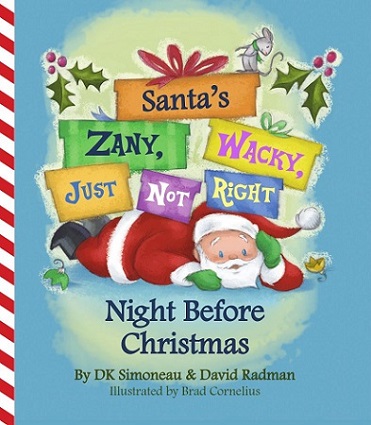 Reading to children on a regular basis is important. Many of us make it part of our parenting & grand parenting routines and others just do it when they can. With that said, I encourage you all to read to a child in your life, whenever you can!
As part of our 2014 Holiday Gift Guide I had a chance to review a brand new holiday book and I am super excited to tell you about it today.
Title: Santa's Zany, Wacky, Just Not Right Night Before Christmas
Authors: DK Simoneau & David Radman
Illustrated by: Brad Cornelius
ISBN: 978-1-933302-18-8
Purchasing: You can buy now! Check out their website and/or Amazon.com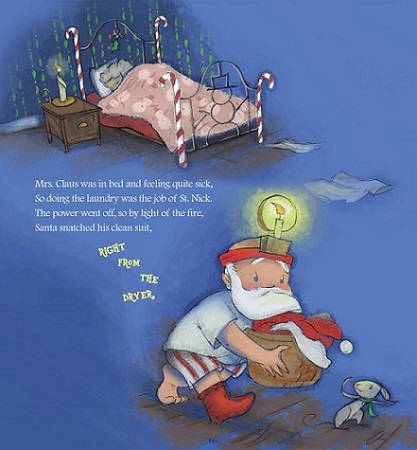 Santa's (Zany, Wacky, Just Not Right!) Night Before Christmas is a whimsical tale of Santa's journey through a Christmas Eve that doesn't go as he expects. One small event leads to a series of surprises that change Santa and Christmas as we know it. It's a story to spark the imagination, make kids giggle, and bring a smile even to a grownup's face! Here is a story that even grownup will relate to and enjoy.
The story was conceived out of an interesting conversation between the two authors of how much of Christmas might change if something as simple as Santa's suit changed to purple.
DK Simoneau says, "There are things in the illustrations that aren't even reflected in the words of the story, like upside down snowmen, green mittens and plaid candy canes instead of striped ones, a clever little mouse named Matches popping up everywhere, and so much more."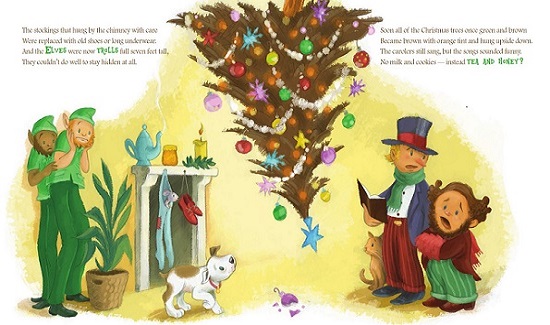 My Thoughts: Wow…this is such a cute holiday story that is sure to bring smiles to any child's face (or any adult for that matter). It is an easy read and older children will have no issues reading it to their younger siblings. I just love how the story starts off with Mrs. Claus getting sick and Santa having to fend for himself. One little mistake leads to more and even though he got everything delivered on Christmas eve…there were smiles and laughs along the way.
The book is a nice large size and is a hardcover which makes it a perfect addition to any child's book library. The illustrations are just beautiful and are extremely well done. It is nice to see a "new" spin on a Christmas Eve story in a children's book. We love it!

Disclaimer: Shelly has personally reviewed the product listed above. Shelly has not received any monetary compensation for her review. Shelly did receive a free product to try out so she could evaluate and use it for her review. Her thoughts & opinions in this review are unbiased & honest and your opinions may differ. Please read our Terms of Service & Disclaimer Policy before entering our giveaways. Thanks!