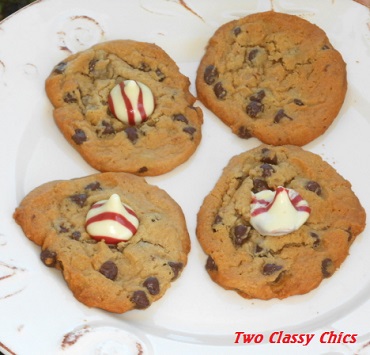 I love baking cookies…all types of different cookies! Now that the weather is getting cooler again, I have been baking up a storm!
Last weekend I baked some chocolate chip cookies but decided to top them with some yummy goodness! You can use your favorite chocolate chip cookie recipe, a recipe on the back of a chocolate chip package or to save time…just buy a roll of chocolate chip cookie refrigerator dough at your local grocery store.
You will want to bake your cookies as normal. Remove them from the oven and top them with a Hershey's Kiss! In my case, I topped ours with the white chocolate raspberry hugs from Hershey's.
To do this…remove all of the candy wrappers while your cookies are baking. Remove from oven, press a Hershey's Kiss in the center and let them cool completely before placing them into a container or cookie jar.
The combination of cookie dough, chocolate chips, white chocolate and raspberry is just PURE HEAVEN…HEAVEN!!! Just a warning, they are sweet and totally addictive!
I have also done this when baking a batch of chocolate cookies and then topped them with these white chocolate raspberry kisses and it was equally delicious! My family loves them! Enjoy!
* This post contains affiliate links. If you make a purchase, we may or may not receive a small commission which helps to support this site. Thank you!