** 2014 Holiday Gift Guide **
I love cooking and enjoy trying out new kitchen tools that can be a big benefit while cooking meals. There are so many neat items on the market now and I have had the privilege of testing two items from Procozion.com that I want to share with you today.
Procozion offers tools for busy lifestyles that will make a difference for you. They create innovative products like the two items I received. One is a cool digital kitchen scale and the other a vegetable slicer.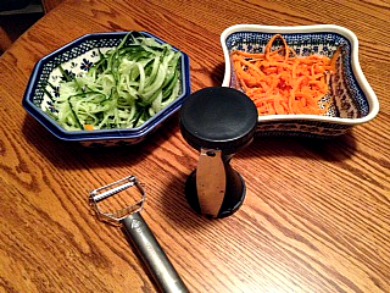 The Vegetable Spiral Slicer is an easy to use tool to make vegetable pastas or garnishes. I used it to make a zucchini pasta with a pesto sauce and it was good. I also used it to slice a cucumber. I used it for a pickled cucumber onion salad. That was a bit of a challenge as the cucumber was fine but the onion kept shredding to very small pieces. I also used it to make carrot spirals to use in a green salad. I did have some problem with the shredder clogging up with the carrot. When I could get it to work, it turned out very pretty.
This tool is great for making very nice garnishes that would look nice for holiday preparations. The shredder is a very sturdy tool and can be used for either a right or left handed person. It came with a cleaning brush and a vegetable peeler.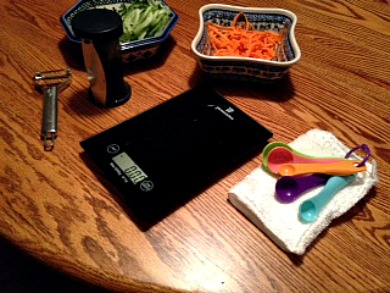 The second item I checked out was an extra nice Digital Kitchen Scale. It has a 3 mm black tempered glass surface. It has buttons to press that were very sensitive to the touch. With the buttons you can change weighing from grams to kilograms to ounces to pounds very simply. You can also make the scale adjust for container weight, if you choose, to get a more accurate ingredient weight.
This scale comes with batteries (plus an extra set), plastic measuring spoons and a non abrasive soft micro-fiber cloth as bonuses. My son is trying diligently to to lose weight. I gave the scale to him and his wife to weigh and measure their food. He was astonished when he found out the portions he thought were small portions were actually double what he thought were "cut down" portions. So now he is eating more correct portions using the scale to weigh his food which will help him to lose more weight quickly. I will be borrowing it when I need to weigh ingredients when I am baking. This is a great item to keep in the kitchen!
Stop by and visit their website at Procizion.com and check out their other interesting products.
Enter to Win
We are happy to offer the scale and vegetable slicer to one lucky winner to try too! Here is how you can enter.
Giveaway Details: This giveaway is open to US Residents age 18 or over. You must complete the Mandatory Entry to be eligible. This giveaway will close on November 16th, 2014 at 11:59pm EST Time.
Disclaimer: Please read our Official Rules before entering this giveaway. Nadine Bye has personally reviewed these products. She has not received any Monetary Compensation for this review but did receive free products to use & evaluate for the review. Your thoughts & opinions may differ from me. We must receive all entries by the end date of the contest and the odds of winning are determined by the number of entries received. No purchase necessary to enter. This giveaway is not affiliated with Google+ or Facebook in any way. All Content on this site is Copyright of the Two Classy Chics. All Rights Reserved