I think I know only a few people that do not like chocolate. I know one of them lives in my house. My son is not a big fan of it unless it comes in the form of brownies. Then he is all over it. Myself, I am totally in love with chocolate and enjoy it in small amounts on a daily basis. I love a smooth and creamy chocolate flavor and I was excited to introduce you to Paris Truffles earlier in the year. Today, they are back for our gift guide with a new line of chocolate bars that we were excited to review.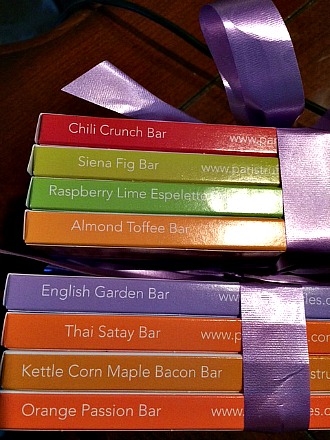 Paris Truffles has amazing chocolates and I am so happy that they are with us for the gift guide this year. Spoiling someone special with an amazing treat like these artisan candies will make a lasting memory. I still remember those awesome truffles we featured in our last review.
With the holidays about upon us,the folks are Paris Truffles have been working hard to add some amazing products for your gift giving. One of their newest items is their line of unique artisan chocolate bars. These oversize 3 oz. bars come in 9 different flavors with amazing additives like Chili Peppers, Bacon (no, that is not a typo), Candied Violets, Figs and many more delightful flavor combinations. Each bar is a unique experience!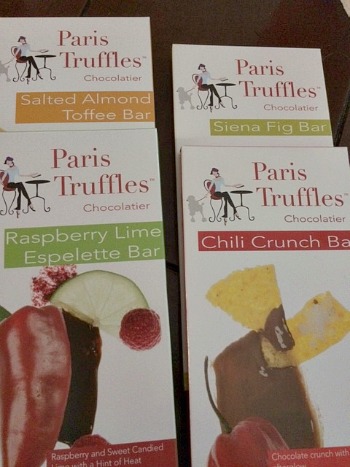 I was sent several of the bars to try. What I noticed first is the beautiful packaging. They say you eat with your eyes first and with these beautiful bars, I was ready to dig in. The chocolate is creamy and so full of flavor. I was able to enjoy so many different taste sensations with these bars. You can travel from England to Thailand to Mexico or South America in a matter of moments just by choosing a taste profile.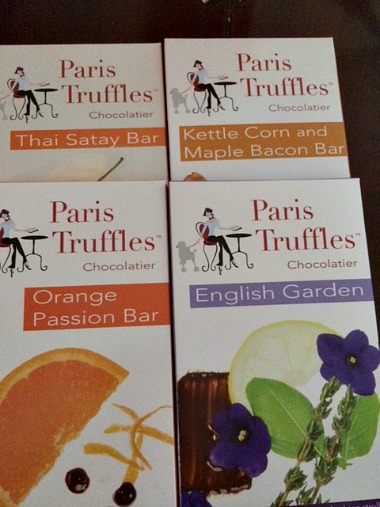 How about these amazing flavors:
Chili Crunch
English Garden
Kettle Corn and Maple Bacon
Thai Satay
Orange Passion
Siena Fig
Raspberry Lime Espelette
Salted Almond Toffee
Honey Roasted Three Nut
Oh my! It is difficult to choose a favorite. They all had either dark chocolate or milk chocolate in the mix with the particular flavor. MMmmm so tasty. I am a milk chocolate girl so I naturally leaned towards those first. However, the dark chocolate bars were just a good because of the nice blend.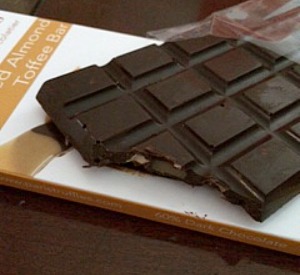 Plus Paris Truffles has several other new items in the mix for the holiday's too! Macroons – Amazing. Rochers… Oh my goodness! And even Truffle Cake – I have died and gone to heaven!
You have to stop by and check out their awesome collection of goodies. I know they are working on more items for you pleasure this holiday so make sure to add them to your list for fabulous gift ideas.
Enter to Win
We are excited to offer 2 lucky winners an assorted 4 pack of the Chocolate Bars! YAY Here is how to enter.
Giveaway Details: This giveaway is open to US Residents age 18 or over. You must complete the Mandatory Entry to be eligible. Follow the directions in the Giveaway Tool below. This giveaway will close on November 12, 2014 at 11:59pm EST Time.
Disclaimer: Chris Carroll received product for the purpose of review. Please read our Official Rules before entering this giveaway. We must receive all entries by the end date of the contest and the odds of winning are determined by the number of entries received. No purchase necessary to enter. Two Classy Chics is not responsible for prize fulfillment. All Content on this site is Copyright of the Two Classy Chics All Rights Reserved