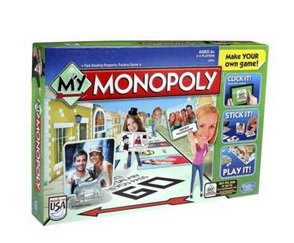 ** 2014 Holiday Gift Guide **
The game of Monopoly has been around since I was a kid and over the years we have seen the game come out in various different versions to keep it interesting. Just when you thought it couldn't get any better…it has! Now you can personalize your very own Monopoly Game with the new "My Monopoly" from Hasbro.
With this new version you make your own game! You register your game online, then upload some of your favorite photos, print them out, stick them onto the playing pieces and you are ready to play the game! How cool is that? Totally cool.
For those of you who are new to Monopoly (hard to believe but I guess possible) the game is a fast-dealing property trading game. It is for ages 8 and up and for 2-4 players. The game is made here in the U.S.A.
What all can you personalize with this new version? Well, I am going to tell you!
* Game Tokens
* Playing Cards
* Playing Board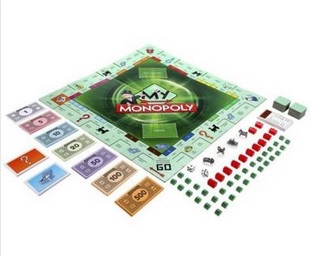 The game comes with: the game board, 4 tokens, 30 blank tiles, 4 sticker sheets (30 stickers per sheet), 28 title deed cards, 16 chance cards, 16 community chest cards, 32 hours, 12 red hotels, 2 dice, play money pack and the game guide.
We received the new "My Monopoly" game to review for all of you and ended up giving it to my 2 nephews who are ages 13 and 16. They love board games and every 2 weeks they host a family game night at their home. Their mom told me that ever since we gave the game to them…it has been the "HIT" of their game nights. The boy's customized their game to coincide with some of their favorite sport's teams. I can't wait to see it the next time I visit with them.
Anyway, as part of our 2014 holiday gift guide, I wanted to include this listing as a great gift idea this year! The perfect family gift!
* This post contains affiliate links. If you make a purchase, we may or may not receive a small commission which helps to support this site. Thank you!

Disclaimer: Shelly has personally reviewed the product listed above. Shelly has not received any monetary compensation for her review. Shelly did receive a free product to try out so she could evaluate and use it for her review. Her thoughts & opinions in this review are unbiased & honest and your opinions may differ. Two Classy Chics is not responsible for delivery of any giveaway items won from this blog. We are not responsible for injury or mis-use of any products won from the Two Classy Chics Blog. Please read our Terms of Service & Disclaimer Policy before entering our giveaways. This giveaway is not affiliated with Facebook or Google+ in any way. Thanks!