Our little grand daughter just entered Kindergarten this year and is already well-ahead of most of the kids in her class. Matter of fact, we had her tested over the summer and she graded out in a 1st and 2nd grade level in most classroom subjects.
The reason I feel she is so advanced is because we have always worked with her in learning new things. In addition, we have always provided educational toys, games and videos to her. That's right, we don't buy her a lot of "nonsense" and "useless" things that most kids get these days.
One of my favorite companies for educational toys & games happens to be Learning Resources. We have been buying and/or reviewing their products for 4 years now.
When you shop at Learning Resources you will find activity sets & books, construction sets, active learning & play sets, discovery & exploration sets, electronic toys, games, puzzles, water & sand toys and a whole lot more! Everything on their site is extremely well-made and affordable.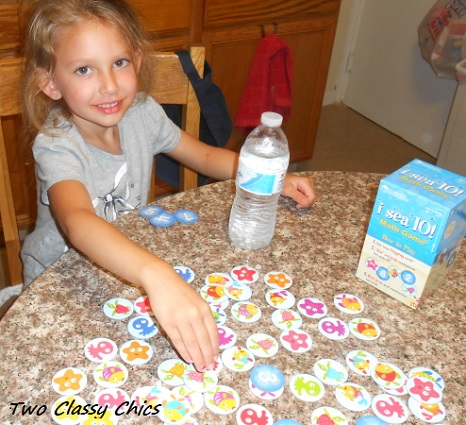 Even though Gianna is advanced, she did need some additional help with Math. We got the new I Sea10! Math Game from Learning Resources and it really made a big difference in teaching her basic math skills. This game is for ages 6 and up but at the age of 5…she was able to play the game just fine.
The game is designed to meet CCSS Operations & Algebraic Thinking and includes 100 numbered cards for countless combinations. Everything comes nicely packaged in a reusable storage box.
How to Play: Take turns flipping over the cards. "Sea" and "Grab" combinations to make 10. Reel in the most combinations and you win the game.
You can play this game various different ways and there is an instructional guide that comes with it to give you some ideas. Once Gianna mastered the addition…we reversed the game play to work on subtraction.
The game is absolutely adorable and it is fun to play. Kids don't even realize that they are learning math & addition. Plus, I like that it is really compact in size and we can take the game with us when we travel or when doing sleepovers, etc.
Overall, we really like the game and Gianna has really been enjoying it. Once she is done with this game, I am going to pack it away for grandbaby #2. Yes, we really do LOVE this little game and feel that it has really helped her to learn basic addition and subtraction!
You can purchase the Learning Resources I Sea 10! Game
directly from Amazon for a really great price (less than 10 bucks!) and it makes a great affordable gift!
* This post contains affiliate links. If you make a purchase, we may or may not receive a small commission which helps to support this site. Thank you!

Disclaimer: Shelly has personally reviewed the product listed above. Shelly has not received any monetary compensation for her review. Shelly did receive a free product to try out so she could evaluate and use it for her review. Her thoughts & opinions in this review are unbiased & honest and your opinions may differ. Two Classy Chics is not responsible for delivery of any giveaway items won from this blog. We are not responsible for injury or mis-use of any products won from the Two Classy Chics Blog. Please read our Terms of Service & Disclaimer Policy before entering our giveaways. This giveaway is not affiliated with Facebook or Google+ in any way. Thanks!