Buying unique gifts for men is something I often struggle with. I can spend days shopping around the retail stores and shopping online just for that perfect gift. In the past, I would get very frustrated with shopping for that perfect gift until I discovered Brilliant Puzzles.
Brilliant Puzzles has all kinds of great gifts! They sell wooden puzzles, 3D puzzles, metal puzzles, puzzle boxes, wooden games, stuff for kids and all kinds of other great gifts! With the Christmas holiday quickly approaching, you can find all kinds of affordable gifts at Brilliant Puzzles!
My son-in-law loves to play various games and I knew the Othello Reversible Wooden Strategy Game was perfect for him! My daughter and Ernie are always entertaining at their home and 9 chances out of 10, it is down in their family room/game room where everyone gets together. In addition, they do a lot of traveling and this game is compact enough for them to take with them.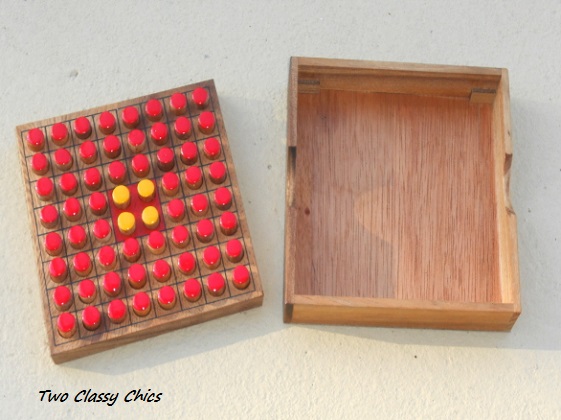 The Othello Reversible Wooden Strategy Game is beautiful and you can let it sit out on your game table as part of your room's decor. The game is made for ages 10 and up but my 8 year old nephew has no problems playing it when he is at my daughter's home visiting.
The game measures 5 1/2″ by 5 1/2″ square. You have 2 different colored wooden pegs (red and yellow) and it comes with an instruction sheet if you need to learn how to play the game. Something, I need to learn to play one of these days! When you are done playing, you flip the wooden bottom over to become the lid…then everything stays nicely organized and together.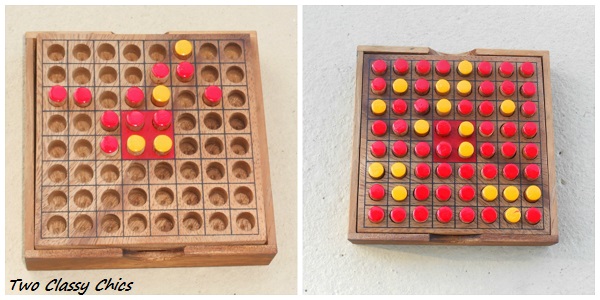 Anyway, I gave the game to the Big E as a "very" early holiday present. He was quite excited to receive the game since he hasn't played Othello for many years. My husband and the Big E sat down and read the game instructions and then played a few rounds of Othello while my daughter & I did some cooking. The guys really enjoyed playing the game.
Since giving the game to the Big E, it has become quite the game hit at their home. They are always telling me so & so was over for a visiting and that the Big E proudly got out his Othello game for all of them to play. When they are not playing it, it is displayed nicely on their entertainment bar in the family room.
Head on over to Brilliant Puzzles and take a look around. They have a nice variety of different puzzles & games for all different ages. With the holidays coming up, you definitely want to head on over there today and take a peek.

Disclaimer: Shelly Hill has personally reviewed the product listed above. Shelly has not received any monetary compensation for her review. Shelly did receive a free product to try out so she could evaluate and use it for her review. Her thoughts & opinions in this review are unbiased & honest and your opinions may differ. Please read our Terms of Service & Disclaimer Policy before entering our giveaways. Thanks!