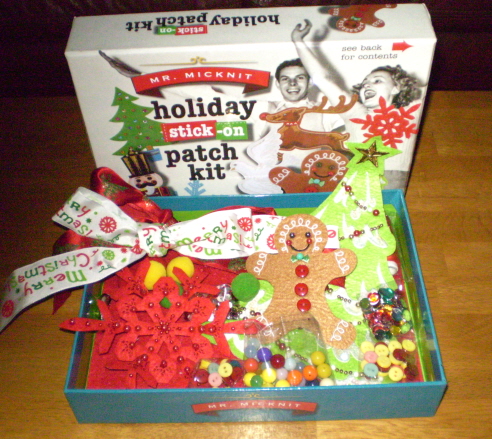 Have you ever been invited to a "Holiday Sweater Party" and wondered where you were going to find a unique holiday sweater to wear? This kit is just the ticket! Michael Simon, who designed many of those unique holiday sweaters in the 1980s, has created a do-it-yourself kit for today's crafter, the Mr. Micknit Holiday Stick-On Patch Kit. The box the kit comes in is no ordinary cardboard box! It is heavy duty and has designs on all sides, including the bottom. Inside you will find assorted items that will warm your crafty heart!
The kit includes three ready-made peel and stick patches such as a red snowflake, a huge Christmas tree and a Gingerbread Man. These patches are well made, embroidered and have sequins and beads sewn onto them. Also included are beads, pom poms, jingle bells, sequins, buttons, holiday ribbons, jewels, thread and two sheets of peel and stick felt. This is truly a do-it-yourself kit that you can use to decorate tablecloths, wine bottle covers, coasters, pillows, etc. I just needed to let my creative juices start to flow to come up with the perfect project.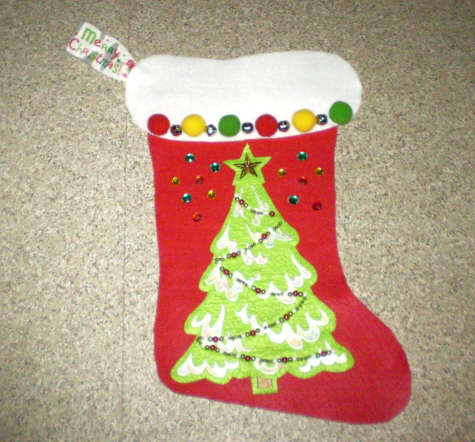 Not needing a new holiday sweater, I decided I would use my kit to make a Christmas stocking decoration for my granddaughter. I went to the craft store and purchased some sheets of red and white felt, plugged in my hot glue gun, threaded my needle and got to work. I decided to lay out my design before I started. First I tried the Gingerbread Man and then the snowflake (which did not work against my red felt background). Because of the size of my stocking I opted to use the Christmas tree.
* This post contains affiliate links. If you make a purchase, we may or may not receive a small commission which helps to support this site. Thank you!
All I had to do was peel the backing off of the Christmas tree, place it where I wanted it and press into place. I added embellishments by alternating the pom poms and jingle bells along the edge of the "cuff" of the stocking. Some sparkling jewels finished it off. I was quite pleased with the results and enjoyed using this kit. I am anxious to see what patches will be provided with Mr. Micknit holiday patch kits for other holidays in the future!

Disclaimer: Gail has personally reviewed the product listed above. Gail did not received any monetary compensation for her review. Gail did receive a free product to try out so she could evaluate and use it for her review. Her thoughts & opinions in this review are unbiased & honest and your opinions may differ. Please read our Terms of Service & Disclaimer Policy before entering our giveaways. Thanks!