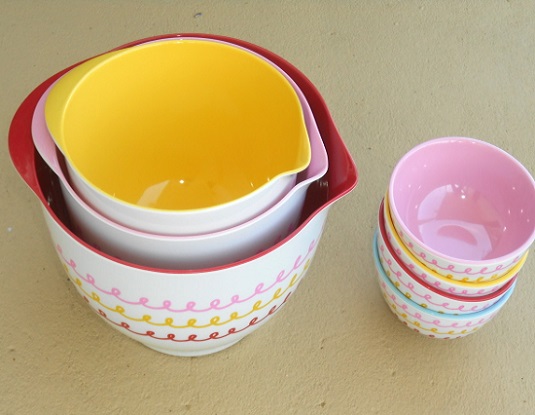 ** 2014 Holiday Gift Guide **
When it comes to being proficient in the kitchen it is important to have a great set of mixing bowls that function like a dream. On top of that, having them look nice & festive is a plus too!
With the holiday season coming up, this set of Melamine Mixing & Prep Bowls would make the perfect holiday gift for any cook or foodie on your list. This set is from Cake Boss and they are my absolute favorites!
This 7-piece set is made out of durable melamine which cleans up like a dream! They are dishwasher safe and frankly, I find that nothing sticks to them. They are colorful and even though they are mixing and prep bowls…you can use them for serving bowls too!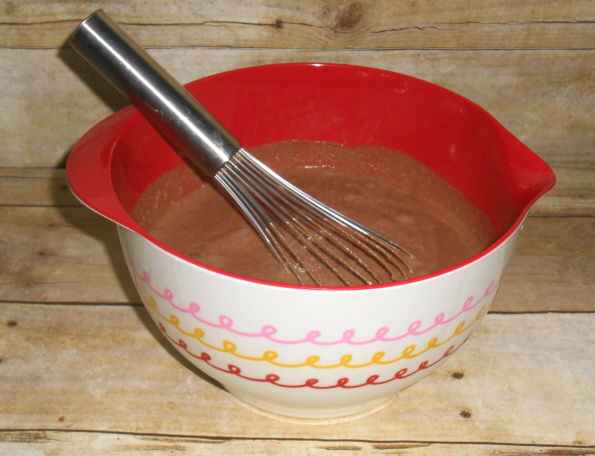 The three large mixing bowls are in a 1-quart, 2-quarts and 3-quarts size. They have built-in pour spouts which makes pouring directly from the bowl super easy. Each bowl has a handle and the bottom of each bowl has a rubber ring to keep it from sliding around on your counter top or work surface area.
The four smaller bowls match the three larger mixing bowls perfectly. Each one has an 8-ounce capacity and they can be used for smaller prep tasks, as little serving bowls but frankly, we love them for serving desserts like homemade ice cream!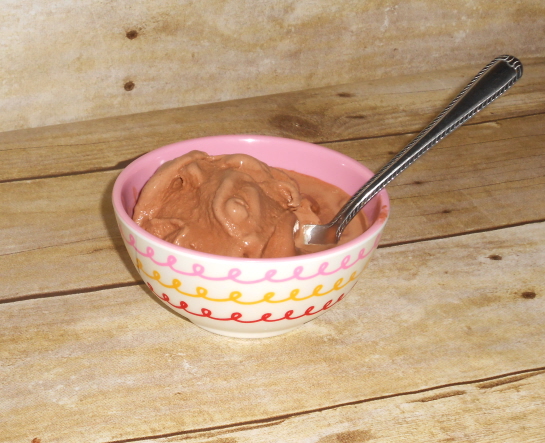 My photographs posted in this review show me whipping up a batch of freshly made homemade chocolate ice cream for my family. That large mixing bowl is just perfect for that! Once my ingredients are mixed, I just pour them into our ice cream maker machine & let it do all of the work. Once done, I scoop out our ice cream and serve it in the little 8-ounce bowls.
How cute are they? Super cute…but super functional too! They are great for year round use and for storage…just stack them inside one another to save on your cabinet and/or counter space.
* This post contains affiliate links. If you make a purchase, we may or may not receive a small commission which helps to support this site. Thank you!
The Cake Boss Melamine 7-Piece Mixing & Prep Bowl Set is available at many nationwide retailers like Overstock.com, Amazon.com, Walmart and Kohl's to name just a few. Excellent choice for holiday gift-giving!

Disclaimer: Shelly has personally reviewed the product listed above. Shelly has not received any monetary compensation for her review. Shelly did receive a free product to try out so she could evaluate and use it for her review. Her thoughts & opinions in this review are unbiased & honest and your opinions may differ. Please read our Terms of Service & Disclaimer Policy before entering our giveaways. Thanks!