** 2014 Holiday Gift Guide **
When Gianna was 3 years old she saw her very first My Little Pony episode on TV and instantly fell in-love. Over the years she has decorated her bedroom in a My Little Pony theme, wears theme'd apparel items, watches their movies over & over again and owns numerous toys & games.
In my opinion, my little grand daughter is definitely a My Little Pony and Equestria Girls SUPER FAN! She just can't get enough!!! The holidays are quickly approaching and this next item we are featuring would make the perfect gift for any little girl on your holiday gift-giving list.
Hasbro sent us the new My Little Pony Equestria Girls Singing Twilight Sparkle Doll to review for all of you. This doll is made for ages 5 and up and comes with 2 alkaline batteries. Yay!!! You don't need to run out to buy batteries and she is ready right out of the box!
She comes fully decked out in her Rainbow Rocks clothing which I think is absolutely adorable! She has a plastic microphone stand and clip-on sparkle wings which clip onto her back. How about those purple platform boots? Yeah, included too and I love them!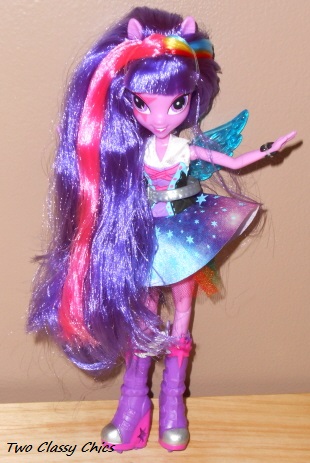 When your child pushes the right hand on this doll she introduces herself and then starts to sing. They call it giving her a "High-Five" and the voice is crystal clear!!!
I gave her to my little grand daughter and she went bonkers with her! That doll goes everywhere with her…including to bed! She hid her from me one day and took her to school in her backpack for Show-in-Tell too! She said all of the little girls in her class wanted to play with her but Gia was greedy and didn't share. Well, that should tell you how much she loves her new doll!
Hasbro has been making fun toys and games for decades and I remember buying them for Jenelle when she was a little girl. Now I get to relive all of that fun by buying toys and games by Hasbro all over again for my little grand daughter!
* This post contains affiliate links. If you make a purchase, we may or may not receive a small commission which helps to support this site. Thank you!

Disclaimer: Shelly has personally reviewed the product listed above. Shelly has not received any monetary compensation for her review. Shelly did receive a free product to try out so she could evaluate and use it for her review. Her thoughts & opinions in this review are unbiased & honest and your opinions may differ. Please read our Terms of Service & Disclaimer Policy before entering our giveaways. Thanks!