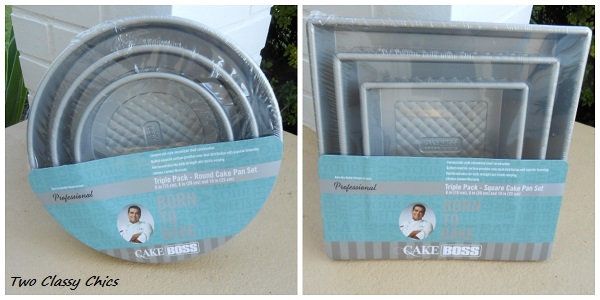 ** 2014 Holiday Gift Guide **
Once we moved into our new home last year I realized just how crappy looking my cookware and bakeware was. Seriously, most of the bakeware that I owned at the time was given to us as wedding gifts 28 years ago. As you can imagine, I was horrified packing up that old stuff and moving it to our new home.
Fast forward 17 months and I have slowly been replacing all of my cookware and bakeware products and needed a new set of round & square cake pans. I got a set for review and I am excited to tell you all about them today.
I received the Triple Pack – Square Cake Pans and the Triple Pack – Round Cake Pans from Cake Boss to try out for all of you. These are commercial-style aluminized steel baking pans with a quilted-style interior nonstick surface that provides even heat distribution with superior browning. They have reinforced wire rims to add strength and to resist warping. They come with a limited lifetime warranty.
The Triple Pack – Round Cake Pan Set includes 3 round pans: in 6″, 8″ and 10″ sizes. The Triple Pack – Square Cake Pan Set includes 3 square pans: in 6″, 8″ and 10″ sizes. They nest inside one another to save on storage space.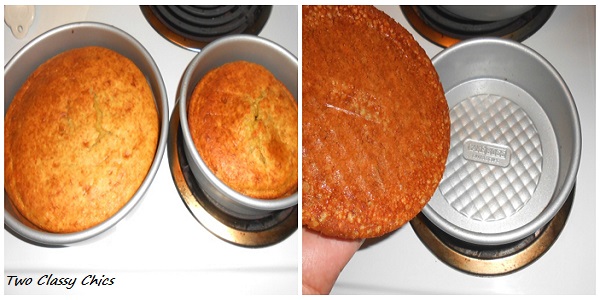 I decided to whip up a homemade banana cake which is Gia's favorite flavor of cake. I wanted to test out the nonstick interior so I sprayed one pan lightly with nonstick baking spray and the other one…well, didn't spray it at all. I whipped up my cake batter, poured it into two of the round pans and put it into the oven to bake.
Once it was done, I was pleasantly surprised to see how evenly browned and baked my cakes were! They were just beautiful on the top & on the bottoms. Regarding the nonstick, well, they both popped out of the pans clean as a whistle which means I didn't need to spray the nonstick spray in the one that I did. Yay! From now on, I will be skipping that for sure.
Since we were babysitting our grand daughter, I decided to let her frost the cake with some cream cheese frosting and she decorated the top with a few pieces of candy corn. While our cake isn't beautiful (hey now…a 5 year old decorated it)….it sure did taste good! YUMMY good!!! We all had seconds!
Regarding cleanup…since nothing sticks to them, cleanup is a snap! I just quickly washed them with a little liquid soap & then rinsed them clean, towel dried and put them away. I love it when cookware and bakeware is easy to clean, don't you?
I love my new Cake Boss cake pans!!! With all of the baking that I do on a weekly basis, they are getting a royal workout and look just as beautiful now as they did 2 months ago when I received them!
You can shop for the Cake Boss line of products by visiting the site and I highly recommend them. With the holidays coming up, they would make the perfect gift!
* This post contains affiliate links. If you make a purchase, we may or may not receive a small commission which helps to support this site. Thank you!

Disclaimer: Shelly has personally reviewed the product listed above. Shelly has not received any monetary compensation for her review. Shelly did receive a free product to try out so she could evaluate and use it for her review. Her thoughts & opinions in this review are unbiased & honest and your opinions may differ. Please read our Terms of Service & Disclaimer Policy before entering our giveaways. Thanks!