What you wear can make or break you, whether you're in the office or lounging around at home. Sure, some people may come to certain conclusions about your sense of style based on the type of clothing you wear, but the fit of your clothing also says volumes about you. Your first thoughts might go to someone with a shirt that is either much too small or much too large, but the pants are where it all begins. Whether it's a pair of cheap mens pants for lounging or a nice pair of business pants, your pants should fit well for maximum comfort and visual appeal.
Business Pants
Whatever sort of pants you choose to wear to the office—business trousers, chinos, or any other nice-looking pants—they should sit at about your hip and right underneath your bellybutton. These pants should be snug enough to be worn without a belt. Avoid pants that are tight enough to give a complete portrayal of your rear end. If the pockets on your pants are flaring out, they are probably too small.
Pants in a business environment should be long enough to create the amount of break you desire. A break is where the pant seems to fold in at about the ankle or shin. In a business environment, no break to one full break is appropriate. More than one full break is too casual or makes the pants look too long.
Casual Pants
Casual pants would be jeans or casual work pants that you wear out on the town to be comfortable. For the perfect fit, these types of pants should be snug, but loose enough that you can pinch about one half inch of fabric between your fingers at the thigh. Casual pants can hug your rear end a little tighter to show it off. The amount of break can be determined by your personal style. In a casual setting, multiple breaks are acceptable if the pant style and outfit allow for it.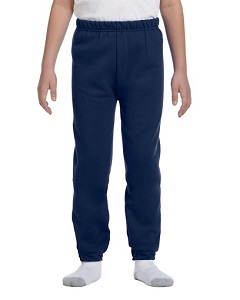 Loungewear
Any pants that you would wear to participate in an athletic event or basically lounge around in comfort at home might be considered loungewear. This style has the most flexibility. You can wear whatever is comfortable. If you're using the pants for sports purposes, you will want something that is snug without being constricting. Breaks in loungewear often indicate the size is too big. Although many athletic pants have drawstrings, you will want to choose a waist size that fits comfortably where you can leave the drawstring as it is.
Finding the perfect fit for any style of pants is a pretty simple matter. For the most part, avoid pants that are either too constricting or too large. Try to choose waist sizes that fit well without the assistance of a belt. The amount of break near the cuff of your pants can be left up to your personal preference. In a business setting, try to keep the break to one or less. In casual settings, the break can be left up to your outfit style and personal preference. Once you have the perfect-fitting pants, the rest of your outfit will start to come together.