It's Summer and that means pool and beach parties abound! Or if you have no access to the pool or beach directly, a fun water theme party with friends and neighbors over one of the holidays can brighten up your summer fun. There are plenty of cool decorations that you can find to spruce up your party. Plus I want to share with you some fun eats I was able to review along with some tips for hosting your awesome beach party theme get-together.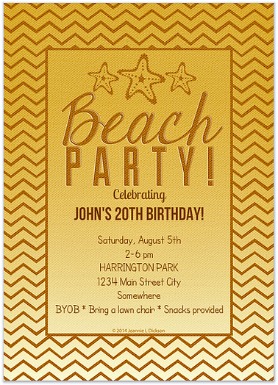 Start With a Fabulous Location
Choose the beach, pool or your own back yard setting and choose your theme to tailor your party around. Ocean animals, nautical stripes, sun and surf are a few to get you started. Look at tablecloths, tables, lighting and seating to help you transform your location.
Plan Your Party
Are you looking for a picnic style party, clam bake or a sit down more elegant affair? Choose decorations like colorful metal pails, shells, sand, twinkle lights, nautical accessories, wood and other beachy items.
Stage Your Decor
Have a table or area that people will gather around for beverages and appetizers. This will be a main decoration area. Your eating table will be the other decorating theme area. Scatter some theme items through the house or area like bathrooms, entryway and in small seating areas for a complete theme interest.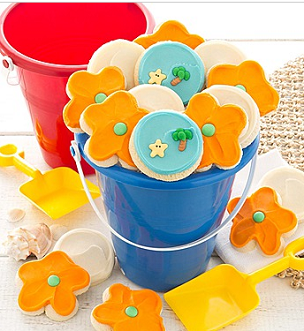 Choose Good Eats
Your foods can be served in nautical color platters and bowls that will help carry the theme. Also look at fun serving vessels like Sand Pails such as the ones these tasty beach theme Cheryl's Gourmet Cookies come delivered in. Delicious and decorative too!
Choose a Festive Beach Theme Beverage
Sex on the Beach, Tequila Sunrise, Ocean Punch. Create your own fun beverages with colors that will blend into your theme.
Check out Celebrations lifestyle experts
They offer more inspirational ideas like:
– Create DIY beach buckets with your friends and family
– Build and bake a Sandcastle Cake
– Treat yourself to buttercream frosted beach-themed cookies (delivered to your door)
– Chill out with Frozen Lemon Sparklers
– Set the tone for summer by simply setting your table
Relax and Enjoy
It's a beach party after all! Have fun!
* This post contains affiliate links. If you make a purchase, we may or may not receive a small commission which helps to support this site. Thank you!