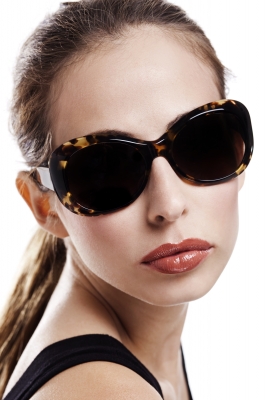 Wearing sunglasses is something that we all need to do. Protecting our eyes from the harsh rays of the sun is not only good for your eye health, but it also makes it safer for you to see while driving or performing other activities. Sunglasses have also become an important fashion accessory too. Choosing the right sunglasses for you can enhance confidence and your fashion sense along with eye protection.
Here are some tips to help you choose the best sunglasses for you
1) Frame Style – I know many people that say they look terrible in glasses and choose not to wear sunglasses. I say it is all in the cut of the frame. There is a frame design for every one. Take some one with you who will tell you the truth about the look and help you find the perfect one.
Choose a frame that is opposite of your face shape for the best look.For Instance, If your face is round, look for rectangles or square frames. For more angular face shapes, look at round or oval frames, etc.
Feel the weight of the frame on your face and where it sits on your nose. Is it comfortable. Can you wear it all day> Do they slip?
2) Look at Frames Size – Don't choose something too big or too small. Find the right size for your face
3) Look at Frame Color – Some colors look better on you than others. Bright colors may sound fun, but do you really look the best in White or Yellow? Look for a color that blends with your skin color and hair color or enhances it. Tortoise, black and brown are classic colors that blend beautifully. Also for metal frames, look at golds and silvers.
4) Lenses are important – There are many lens colors and there is a reason for that. Greys reduce brightness. Brown and Amber helps by cutting the blue light from the sun but can cause distortion. Yellow reduces haze, but can also cause distortion. Green lenses help with reducing glare. Super dark black lenses are great for overall use. Polarized lenses are good for water use to protect from rays bouncing off the water. Your choice is determined by how you are using your sunglasses most. Many people have several pair because of this.
UV protection is important! Always choose a lens with UVA and UVB protection to protect your eyes.
5) How are you using them? Finally look at how you will be using your sunglasses. Casual wear? Heavy Wear? Maybe this should be first!
There are so many styles, shapes, price points and choices that you will be able to find the perfect sunglasses for you and your fashion style. Feeling comfortable in your choice, looking great and protecting your eyes is what it is all about!
* This post contains affiliate links. If you make a purchase, we may or may not receive a small commission which helps to support this site. Thank you!