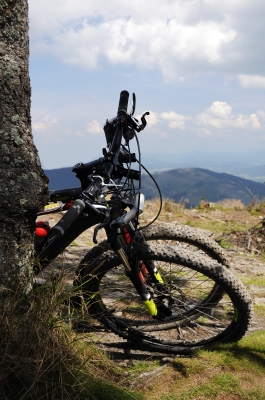 When it comes to fitness, bike riding is one of the best exercises you can do for cardio and to work out your legs. So many people use the gym for spin classes but buying your own bike and enjoying the great outdoors is a lot of fun for the whole family. It is a wonderful way to work out any time of year, including when it is raining.
With the crazy weather going on each day, you don't have to change your plans for exercising just because it may be wet outside. You can safely exercise in light rain if you follow these safety tips.
1. Dress appropriately for the weather! Your clothing should be comfortable and made to keep you dry and warm. You can purchase water resistant and waterproof rain gear that is specifically made for bike riders.
2. Invest in proper eye wear to keep the water from getting into your eyes and make sure the lens will help cut down light and road glare caused by the rain.
3. Avoid going through puddles and standing water as much as possible. Going through them can cause you to slide, splash water and mud plus it can damage your brake pads. Go around the puddles when possible and make sure to inspect your brakes before hitting the road or trails.
4. When you know you will be riding in the rain, it is best to use a heavier chain lube than what you normally do. Lube is easily washed off by water. Carry extra lube with you if you will be riding for an extended period of time.
5. Slow down and take your time! Remember, as cars pass by they will kick up water onto you. Try riding in designated bike lines and on bicycle paths to avoid cars and other pedestrians.
6. Invest in lighting and reflectors for your bike. Visibility is often diminished when the weather outside is dismal.
7. Always towel dry your bike off when you are done! This will help to prevent rusting, pitting to your paint finish and corrosion.
8. If the weather becomes more than a light rain or it starts thundering and lightening, get to safety immediately.
You can enjoy the outdoors anytime and even enjoy bike riding in the rain, just like you used to when you were a kid. Follow these tips for a safe ride and have fun!
* This post contains affiliate links. If you make a purchase, we may or may not receive a small commission which helps to support this site. Thank you!