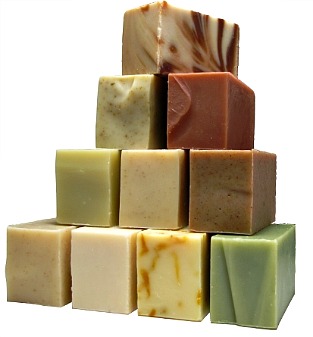 I am a huge fan of handmade soaps and skincare. These are creative, meaningful, and useful ways of combining the beautiful (and the beautifully smelling) things in life to create something practical. It's important to me that items like these are natural. The most important thing is that they can work and actually have a great scent! So I was very excited when I was told I was going to review some soaps and skincare products from Third Day Naturals.
There were so many choices! I had received a Goat's Milk, Oats and Honey Soap bar (4.25 oz), a Lavender Oatmeal Soap bar (4.25 oz), a Triple Mint Mocha Soap bar (4.25 oz), a Citrus Sunshine Sugar Scrub (9 oz) and a Lime Lip Balm. They all smelled wonderful, even at just first opening the box! I couldn't wait to try one.
The Lime Lip Balm was something I immediately tried. It tasted great! I had to reapply every so often, mostly because I tend to lick my lips a lot. The lip balm felt very good on my lips because my lips get chapped very easily. I could feel a difference within several days. It soothed so well, I did see a difference within a week of use.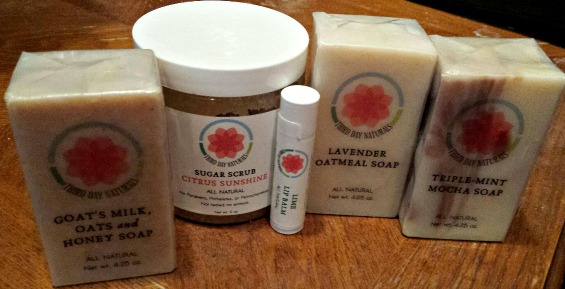 The first soap I tried was the Goat's Milk, Oats and Honey Soap bar. It felt so creamy, almost melting like butter when I would rub it against my skin. I could notice my skin much softer after one day's use compared to store brand kind of bar soaps. I certainly enjoyed the Lavender Oatmeal Soap bar for it's scent as well as the gentle exfoliation, it was fantastic!
Next was the TripleMint Mocha Soap, which was very rich in oils and felt great on my skin. The scent of the cocoa and coffee was just slight, the triplemint was more prominent, but a good mix nonetheless. This one was definitely my favorite.
I then tried the Citrus Sunshine Sugar Scrub. It was just as luxurious as a spa, just with the convenience and privacy at home! It smelled amazing, (my favorite stuff is anything citrus) it was soft, almost creamy but bit quite. I used it mostly for my rough elbows, knees, and feet.
I extremely enjoyed using these handmade natural products. I'm happy to see a product that doesn't include chemicals, is made in the USA, and isn't used on animals. Third Day Natural soaps and skincare products are worth much more than what they cost. Their many terrific scents stay with me all day long, even on the very busy and eventful days! I loved each product!
Enter to Win
One lucky gal will receive 2 bars of soap, 1 sugar scrub and 2 lip balms in your preference of scent! Here is how to enter!
[mandatory entry will be to subscribe to the company newsletter]
Giveaway Details: This giveaway is open to US Residents age 18 or over. You must complete the Mandatory Entry in the giveaway tool to be eligible. This giveaway will close on July 8th, 2014 at 11:59pm EST Time.

Disclaimer: Ruby Santiago has received no compensation for this post but was given free product for purpose of review. Her opinions and words are her own. Your thoughts & opinions may differ. Please read our Official Rules before entering this giveaway. We must receive all entries by the end date of the contest and the odds of winning are determined by the number of entries received. No purchase necessary to enter. All Content on this site is Copyright of the Two Classy Chics All Rights Reserved