Several years ago one of my doctors and 2 physical therapists recommended that I try a microbead pillow to help ease some of my aches and pains. At the time, I brushed off their recommendations and went along my way.
Then a few weeks ago the pain in my upper back, neck, shoulders, lower back and hips got so bad that I was popping a lot of pills again. After a few painful and sleepless nights, I remembered those microbead pillow recommendations from a few years ago.
After doing some web searches I found the #1 Microbead Pillow Store Online. If you recall, I reviewed one of their long body pillows several weeks ago and I swear…I use that pillow EVERY night! I just can't sleep without it!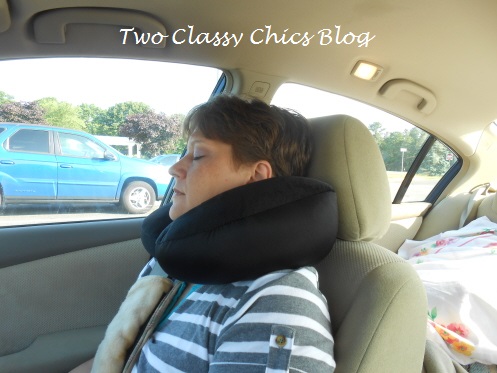 Well, the company is back again and this time around I am reviewing one of their neck pillows. We do a lot of traveling and I have been searching for a great neck pillow that I can use when we travel. With that said, I wanted a microbead pillow as they are the best, super lightweight and great to take along with you.
The Squishy Microbead Neck Pillow comes in several different colors. I received the black which is fantastic as I feel it hides the dirt if you are taking it on the road with you. It is a u-shaped pillow that measures 10 1/2″ by 10 1/2″ by 3 1/2″ in size. This is not sized for a small child…older children…yes or adults!
It is filled with high-quality microbeads and conforms to your neck size making for a comfortable fit for anyone who is using it. It is machine washable, hypoallergenic and super soft & squishy!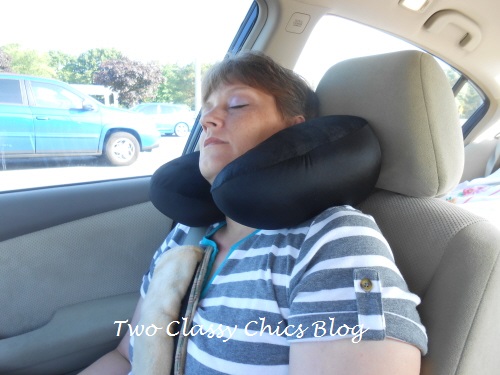 We were recently on vacation and took a road trip down to the Jersey Shore. I get headaches when we travel by car so if I can fall asleep…that is a good thing! I took the neck pillow along with us and was easily able to sleep during the car ride and had great neck support. My head was not flopping all around as I took my nap. In addition, my shoulders were not weighted down by a heavy pillow, these microbead pillows are as light as a feather!
As you can see from the photos my hubby took of me "napping" I was quite comfortable! In addition to using it while in the car, I am now using it when I am sitting in bed watching TV, reading a book or using my laptop. It gives me great support and I find that the aching neck and shoulders have greatly diminished. In addition, I found that I am getting less intense headaches too!
I love this microbead neck pillow and wondered how I lived without it! Well, I won't be living without it any more! I seriously LOVE IT and giving it 10 stars out of 10 stars on my rating scale. I can NOT think of one thing to improve upon.
* This post contains affiliate links. If you make a purchase, we may or may not receive a small commission which helps to support this site. Thank you!

Disclaimer: Shelly has personally reviewed the product listed above. Shelly has not received any monetary compensation for her review. Shelly did receive a free product to try out so she could evaluate and use it for her review. Her thoughts & opinions in this review are unbiased & honest and your opinions may differ. Two Classy Chics is not responsible for delivery of any giveaway items won from this blog. We are not responsible for injury or mis-use of any products won from the Two Classy Chics Blog. Please read our Terms of Service & Disclaimer Policy before entering our giveaways. This giveaway is not affiliated with Facebook or Google+ in any way. Thanks!