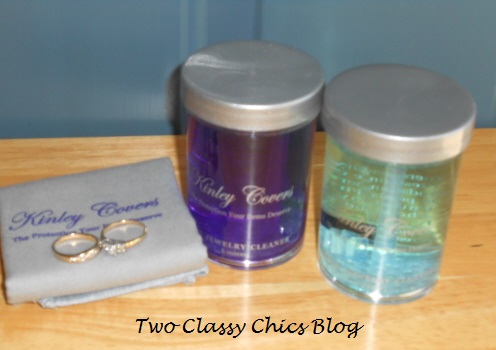 Just like most women in the world, I love jewelry…matter of fact, the more jewelry that I have, the more I love it! I really don't purchase a lot of fashion jewelry and most of the jewelry I own is semi-precious or fine. I tend to lean towards 14kt or 18kt gold, but I do like sterling silver too.
Keeping my jewelry clean and sparkling is something I pride myself in doing. Matter of fact, I clean my jewelry about twice a month (the pieces that I wear often) and the pieces that I wear once in awhile get cleaned every 2-3 months.
Jewelry cleaners can be harsh on your gems and some of them are harsh on your skin too. I really dislike messing with pastes, creams or ones that have foul odors so I was pretty excited to get to review a jewelry cleaning care system from Kinley Covers.
The Gentle and Fine Jewelry Cleaner Set is a dream come true for all of us bling lovers! It is a 3-piece set that includes: a gentle jewelry cleaner, a fine jewelry cleaner and a polishing cloth. It can be used with your genuine gold jewelry, sterling silver, fashion jewelry and even with your delicate pearls. Each of the cleaners have a little soft brush in the container so you can use that to get into all of the nooks and crannies.
I decided to test the system out with the most precious piece of jewelry that I own which would be my wedding ring set. My wedding rings are set in 18kt. yellow gold and consist of diamonds in both the engagement ring and band. I wear these 2 rings every day so they get filthy dirty all of the time!
I followed the directions which states I can immerse my fine jewelry into the solution for 2 minutes, every day if needed. I found that once a week was sufficient for me. I did use the little brush every other week to just get debris out of the nooks and crannies. You do NOT have to rinse this solution off of your fine jewelry. Just remove your jewelry and blot dry. That's it! My rings look like they were professionally cleaned! Now I can save those 3 times a year trips into the jeweler just for cleaning which normally cost me $35.00 a pop! This jewelry cleaner is divine!!!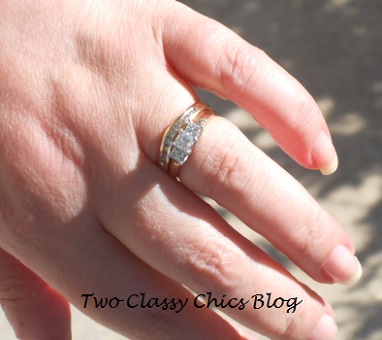 I used the Gentle Jewelry Cleaner to clean a strand of freshwater pearls and they looked fabulous after I cleaned them. I also used it on some fashion jewelry pieces that I haven't worn in years due to them looking dull. Well guess what? Those pieces are now sparkling clean again! Yay!!!
I love these jewelry cleaners! They work quickly, effectively and don't harm your jewelry at all. I really love that I don't have to soak my pieces for hours, rinse them and I especially love that it doesn't have any foul odors to it! The included polishing cloth does a great job at shining up your metal so no scrubbing there. Did I say that I love this stuff yet? Well, I do!
I have used many liquid jewelry cleaners over the years and I have to be honest with all of you…this one is my new FAVORITE by far! Furthermore, it is really affordable! The 3-piece set is normally $19.99 (great price) but right now it is on sale for $14.99 (even better price). Gotta love that!
Head on over to Kinley Covers and check out all of the great products that they have to offer.
Giveaway: One lucky winner is going to win the 3-piece Jewelry Cleaner Set that I got to review! Value $19.99. You are going to love it!
Giveaway Details: This giveaway is open to residents of the US ONLY age 18 and over. Please read our Terms of Service & Disclaimer Policy before entering. This giveaway will close on July  7th, 2014 at 11:59 pm EST time. No purchase necessary to enter or win.

Disclaimer: Shelly Hill has personally reviewed the product listed above. Shelly has not received any monetary compensation for her review. Shelly did receive a free product to try out so she could evaluate and use it for her review. Her thoughts & opinions in this review are unbiased & honest and your opinions may differ. Two Classy Chics is not responsible for delivery of any giveaway items won from this blog. We are not responsible for injury or mis-use of any products won from the Two Classy Chics Blog. Please read our Terms of Service & Disclaimer Policy before entering our giveaways. This giveaway is not affiliated with Facebook or Google+ in any way. Thanks!