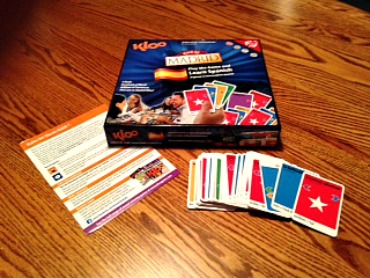 Do you want to learn a foreign language and have a great time doing it? I received a wonderful game to review that all of my family is enjoying. I chose the game to teach Spanish to English speakers. My family knows very little Spanish so we wanted to try to learn.
The game is played with cards of different colors with words on them in Spanish. The object is to make sentences and translate from the seven cards dealt to you. You have to learn the Spanish words as you go along. The translated words are revealed on other cards in the deck. Scores are made as you make sentences. Your score allows you to go around the game board. It is a race to the capitol, Madrid in this case.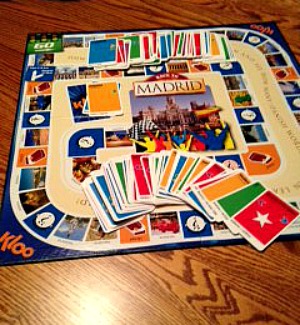 There are other ways to score so you have to be aware of what is going on. The cards are color coded to help you along. An example—blue cards can be masculine or feminine—or yellow cards must agree with the noun. The color coded cards help you learn how to make tens of thousands of grammatically correct sentences quickly and easily. There is a video on their site to help understand and learn how to play too. That is very helpful. After we got started we wanted to play for a long time and we had fun while learning too.
One of my daughters-in-laws works with under privileged children and many of them speak only Spanish. She and some of the other teachers are playing this game to help them understand some of these small children. They are learning quickly. So we are not only learning for fun but it has helped with my daughter-in-law's job.
You can buy games to teach you French, Italian and English as well as the Spanish. These games are a very fun way to learn languages and great for family game night!
Disclaimer: Please read our Official Rules before entering this giveaway. Nadine Bye has personally reviewed these products. She has not received any Monetary Compensation for this review but did receive free products to use & evaluate for the review. Your thoughts & opinions may differ from me. We must receive all entries by the end date of the contest and the odds of winning are determined by the number of entries received. No purchase necessary to enter.