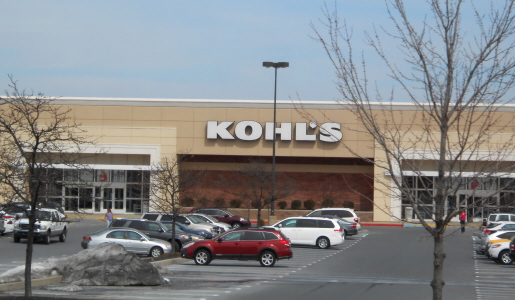 Disclaimer: I was given a gift card to go shopping at Kohl's for summer apparel items. This gift card did not influence my opinions of the items or the shopping experience in any way.
Summer fashion…you either love it or you hate it. Me personally, this is my favorite season of the year…so I of course love summer fashion! That's right, I could live in tank tops, tees, capris, shorts and maxi dresses! After being bundled up in heavy stuff all winter long, I am ready to let my skin breathe. How about you?
Today I wanted to talk to all of you about updating your summer wardrobe with some casual essentials. Every woman needs a few good tank shirts, t-shirts, shorts, skirts and of course my favorite…capri's.
Recently I went to Kohl's to shop for some new summer wardrobe essentials. I am going to show you lovely ladies what I picked out and tell you a little bit about each item.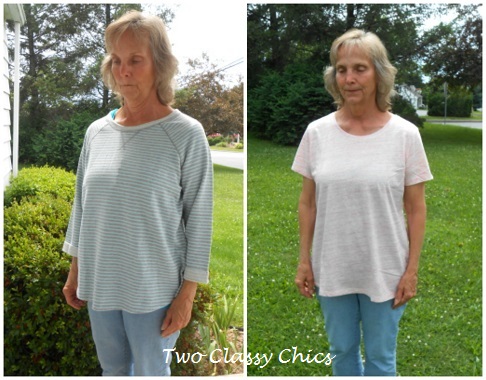 1. I picked up a Sonoma Life+Style 3/4 sleeve terry sweatshirt. I selected this specific item because we travel down to the beach house a lot and during the evening the ocean breeze can be quite cool. I always wear something like this in the evening down there and this shirt is perfect for that! It is a medium-weight top, crew-neck styling, 3/4 sleeves and I love the longer length which gives me coverage. (left photo)
2. I selected a pink & white heathered tee also from the Sonomo Life+Style brand. I love that its your classic styled tee with a boat-neck, short sleeves, light-weight and a longer length. It washes up & dries like a dream thanks to the cotton/poly blend. A must-have essential to wear with shorts, skirts, skorts and jeans! (right photo)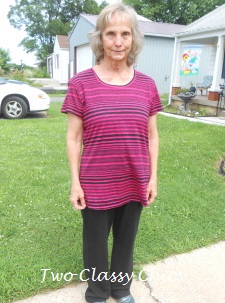 3. Two months ago I purchased a pair of black dress pants from the Daisy Fuentes line at Kohl's but wanted to get a new summer top to wear with them. I wanted the new top to be casual but yet one that I could dress up to wear into work or to church. Well, I found the perfect summer top at Kohl's, part of the Daisy Fuentes line is this adorable berry and black striped shirt! It is the perfect length to wear with black leggings, belt it with a skirt, wear it out or tuck it in! It is light-weight and during the Fall & Winter months, I will wear it under a cardigan or jacket. Year-round for sure!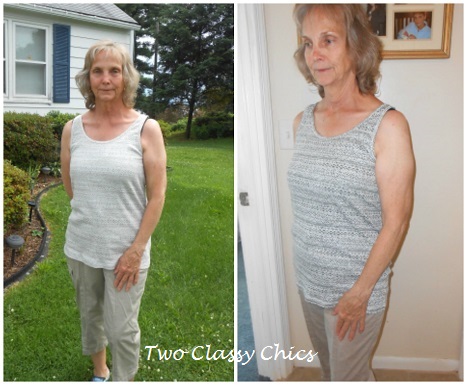 4. and 5. Every woman needs a few essential tank shirts in her wardrobe. Personally, I wear tanks year-round. In the summer I wear them alone and then when winter hits…I wear them under other garments to keep warm. Both of these tank shirts are from the Sonoma Life+Style line at Kohl's and is called an Everyday Tank. They have these in a wide variety of colors. I selected one in oatmeal and one in an olive green color. Again, these are NOT teeny-booper crop length and they give you nice coverage! I love that they are cut in such a way that I can wear a regular bra underneath them!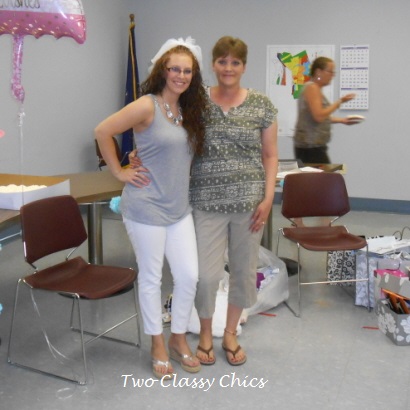 6. When I saw this top from the Sonoma Life+Style brand at Kohl's I knew immediately that I just had to have it! It is made out of 100% cotton and feels really great against your skin. It has a split v-neck with functional buttons, short sleeves and a slight high-low hem to it. Although you could probably get away with tucking it in…I think it looks best left out. I wore this top last weekend to my daughter's bridal shower & got a slew of compliments.
7. I paired up the item above with a new pair of khaki colored capri's from Croft & Barrow line at Kohl's. They have them available in all of your classic colors and we all need a pair of khaki's which go with everything! They have 2 front pockets, 2 back packets, zipper fly, back waist elastic for comfort, belt loops and one cargo pocket. I love how comfortable they are on the body…not too tight and not too lose, a perfect fit! I love these capri's so much that I am going back this weekend and getting a few more pairs in different colors. MUST-HAVES in my book! (I am on the right in the photo above).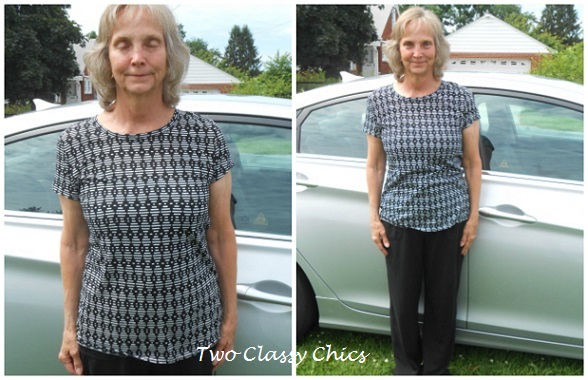 8. I finished up my shopping trip by selecting a very cute black & white print tee from the Daisy Fuentes line at Kohl's. It is part of her "My Favorite Tee" line. It is light-weight and fits the body comfortably. You can wear it casually with shorts, capri's or jeans…or dress it up with a nice skirt or slacks. It will be a "work horse" in my wardrobe for sure! In the photo above, my mother is modeling the tee with a pair of black Daisy Fuentes pants and looks super nice! This is what she wore to the bridal shower last weekend!
I got all of these women's apparel items for $90.00 last weekend at Kohl's. What a bargain!!! With prices like that, I can do a little more shopping and get everything that I need to update my wardrobe this summer.
How many of you shop at Kohl's and what do you typically shop for? Have you updated your summer wardrobe yet? Out of all of the items I featured here, which one is your favorite?

Disclaimer: I was given a gift card to go shopping at Kohl's for summer apparel items. This gift card did not influence my opinions of the items or the shopping experience in any way.