If you have digestive issues, sensitive skin, or want a better chance at fighting off seasonal allergies, ZenMed may have the solution to your problems. The products are doctor-formulated and manufactured with quality and care.
There is nothing like the visitor who overstays the scheduled visit. You know the type; they come over like they usually do, stay for a few days, and forget to leave. I'm talking about the common cold. I've had some linger for over a month. The severity would lessen, but the congestion, sneezes, and coughs would linger. And if a cold comes on during allergy season, I'm lucky if I shake the cold at all. Pumping up the nutrition helps, but sometimes I need more help. Besides, there is only so much orange juice, cinnamon, and ginger I can eat in a day. Herbal supplements can help and ZenMed offers some of the best.
You've heard me mention ZenMed before because of the incredible skin care line. The company combines holistic and medical solutions to formulate excellent products for sensitive skin. The Gentle Cleansing Cream is excellent and left my skin feeling soft and pampered. I knew the product line included supplements, but hadn't explored this line until now. Between sneezing fits, my eyes lingered on Zenhance and I knew I'd found what I needed.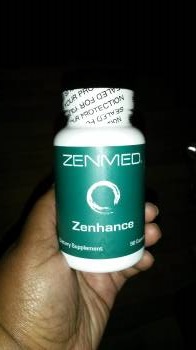 Zenhance is designed to boost the body's natural defenses by detoxifying the digestive tract. When the nasties are minimized, the body can do what it's designed to do. The supplement combines Astragalus, Siberian and Ginseng, Korean Ginseng, Reishi Extract, Echinacea, Lycium Fruit and Ginger in an easy-to-use package. Three capsules a day along with a healthy diet will help the body fight off the ick that ails you a little sooner. If you already supplement with Echinacea and ginger during cold and flu season, choose a supplement that includes both and then some.
Zenhance is free of animal by-products, dairy, wheat, gluten, gelatin, and soy. You can purchase Zenhance alone ($29.99, 2 for $49.99, or 3 for $89.97) or with AvaCare ($49.95) to give your immune system an even bigger boost.
ZenMed's customer service policies and practices are excellent. If you don't like your product, ZenMed offers a 60 day money back guarantee. If you have questions, customer service is available 24/7. Before you place an order, subscribe to the company newsletter to receive a coupon. If your order is over $100, it will ship for free.
If you have digestive issues, sensitive skin, or want a better chance at fighting off seasonal allergies, ZenMed may have the solution to your problems. Take a look at the [product catalog to see everything this company with a conscience has to offer.

Disclaimer: Sherrie T has personally reviewed the product listed above. Sherrie has not received any monetary compensation for her review. Sherrie did receive a free product to try out so she could evaluate and use it for her review. Her thoughts & opinions in this review are unbiased & honest and your opinions may differ. We are not responsible for injury or mis-use of any products won from the Two Classy Chics Blog. Please read our Terms of Service & Disclaimer Policy before entering our giveaways.  Thanks!