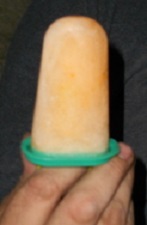 The start of Summer is almost here and the weather is already heating up here in the north east. During this time of the year I like to make a wide variety of homemade popsicles for my family to enjoy and today…I thought I would share one of their favorite recipes with all of you.
Making your own homemade popsicles is a very easy process and better yet, you can control the ingredients that you make them with. Furthermore, they are a LOT cheaper when you make them yourself.

Homemade Orange Popsicles Recipe
Prep time:
Cook time:
Total time:
You will need to freeze your popsicles for approximately 2 to 3 hours to allow them to firm up before eating them. This recipe will make approximately 10-12 popsicles depending on the size of your molds.
Ingredients
1 box Orange Gelatin
1 pkt. Orange Kool-Aid
1 cup boiling water
1 cup Orange Juice
Instructions
Dissolve the Kool-aid and gelatin in boiling water. Add the Orange juice. Stir until all ingredients are dissolved and mixed. Pour mixture into popsicle molds and freeze for a few hours before serving them.
* This post contains affiliate links. If you make a purchase, we may or may not receive a small commission which helps to support this site. Thank you!