Many of us use our cell phones in the car and there are more states enacting distracted driving laws, meaning you can't just pick up your phone and chat like you used to. Even if your state doesn't have a hands-free law, is still much safer to have both hands on the wheel instead of messing with your phone. I was recently sent a ClipSee™ Hands-Free Speakerphone for review and have been testing it out for a few weeks.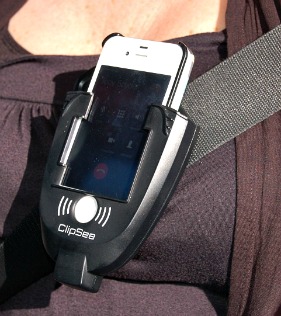 ClipSee is made by Acoustic Gadgets, which was founded in 2013 by Hugh McLaughlin and a team of highly experienced audio experts who have long track records in sound enhancement technology, which leverages both physical acoustic techniques and sophisticated audio signal processing to create higher quality sound. Acoustic Gadgets' mission is to make great products that creatively enhance speech and audio clarity for mobile devices.
The uniquely designed ClipSee speakerphone for iPhone® is a new hands-free option for your car. It provides secure and convenient positioning for your iPhone 4 or 5 and it easily and conveniently clips onto your shoulder belt. My phone fit right into the ClipSee, even with a case on my phone. According to the company, the product was developed to work with most iPhone cases, so you don't have to remove your phone from its case.
Not only does the ClipSee allow you to have your hands free, but it is also designed to amplify the speaker sound by up to 3x and direct it toward your ears, so you are more likely to hear the voice on the other, even with significant road and wind noise. The product clips right onto your seatbelt (you can see in the photos of me in the car with my co-pilot), which places the phone's microphone just inches from your mouth, assuring your voice is transmitted clearly to the other end. I did several conference calls from my car using it and it really was louder and clearer than when I use my phone's speakerphone function. When I use the speakerphone without the ClipSee, it can sound muffled and tinny at times. This was definitely much better! The only thing that I found difficult is using the finger guides, which allow you to find the "home buttons" you would need to use while on a call. The mute button and the speakerphone button both have these guides to allow hands-free, voice-activated operation while keeping your eyes on the road. Perhaps it just takes a little practice. The case even has a height adjustment dial on the back to get your phone aligned properly in the ClipSee case.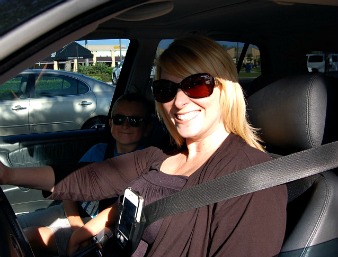 I wouldn't say that this product I can't live without, but I did think it serves as great alternative to my Bluetooth headset and a much better solution that just putting my phone on speaker and resting it on the car seat. Half the time, my phone flies off the seat onto the floor and it can be really hard to hear the person on the other line when they are sliding around on the floor with every turn and stop I make. My husband often refers to my driving as a whirl on Mr. Toad's Wild Ride, so if that scenario sounds at all familiar to you, the ClipSee just might be the perfect solution for you!
Disclaimer: Kristine Snyder has personally reviewed the product listed above. She has not received any monetary compensation for her review but did receive a free product to try out so she could evaluate and use it for her review. Her thoughts & opinions in this review are unbiased & honest and your opinions may differ. Please read our official rules for giveaways before entering. Two Classy Chics is not responsible for shipment of this product