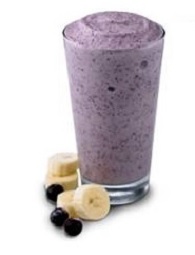 Summer is nearly here and as we hit the gym to get our beach bodies back, many people are looking for ways to make their workouts really count. We all know about the benefits of pre-and post-workout shakes, but these can get pretty expensive when bought at the gym or a shake bar. With the convenience of powders on the market, gym rats are now getting creative with their shakes, doctoring them up, and making them at home. Wanted to share the below recipe from CENergy Nutrition.
Blueberry Pump-It-UP Shake Recipe
4 ice cubes
10 oz Milk (8g of Protein)
1 Scoop CENergy Hyper Infusion Pre-Workout Powder
12 Blueberries (1g of Protein)
1 Whole Banana (1.3g of Protein)
Two Tablespoons Organic Raw Peanut Butter (8g of Protein)
Blend ingredients together and enjoy!
* This post contains affiliate links. If you make a purchase, we may or may not receive a small commission which helps to support this site. Thank you!