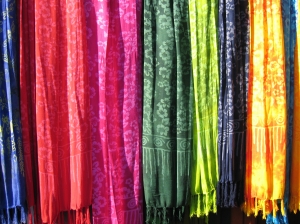 Living an eco-conscious lifestyle in today's world is not always easy. Organic food costs more than conventional, customers often have to take their own reusable bags grocery shopping, and most clothing stores do not have much of a selection of earth friendly clothing. For many natural clothing shoppers, the best solution is to clothing shop online. There are plenty of online retailers that specialize in clothing that is manufactured from sustainable sources that customers feel good about purchasing. Here are some tips for finding and buying eco-friendly clothing online with confidence.
Consider the Materials Used
Purchasing eco-friendly clothing is a conscious decision that many consumers make in an effort to make a small impact on the amount of chemicals and pesticides released into the environment by the clothing manufacturing process. Environmentally friendly clothing is typically manufactured from materials that are sustainable and use very few pesticides. When shopping online, it is important to look into the materials a specific manufacturer uses to create their clothing. The most earth friendly materials include:
• Organic cotton
• Bamboo
• Hemp
• Linen
• Wool
• Soy
Purchasing eco-friendly clothing made from the above materials is a good way to ensure that the product is not harmful to the environment.
Find Out the Dyeing Process
The dyes and the process used to dye conventional clothing can cause potential harm to the earth as well as humans. If possible, learning more about the dyeing process of a manufacturer can help consumers understand how their products impact the environment. The following dyeing processes have fewer harmful results than conventional practices:
• Dirt or clay dyes
• Low-impact fiber-reactive dyes
• Natural dyes
• No dye
Learning about the dyeing process is a good way to determine which clothing brands are worth purchasing.
Is it Certified Organic?
The phrase "certified organic" is used for many products, including food and clothing. There is no national standard for organic or sustainable, but there are some agencies that look into brands that claim to be organic to ensure that their manufacturing process are in fact eco-friendly. Looking for the logos for these agencies provides clues as to whether or not the clothing fits into the organic standard. Many online shops will designate their certification on their website.
Look into Fair Trade
Earth conscious clothing should not just be free from harmful chemicals, but should also be manufactured in a way that is fair and healthy to those involved in the process. Fair trade is a big concern for many companies, as some clothing manufacturers utilize foreign workers that are paid low wages and required to work in unsafe conditions. These sweatshops produce a huge percentage of the country's clothing, but there are many manufacturers that ensure their clothing uses only fair trade practices. When consumers shop for discount clothing online, they should look for retailers that feature products labeled as "fair trade" to find the clothing that fits into their personal standards.
While finding good quality eco-friendly clothing is not always simple, it is possible with a little bit of research. Online retailers continue to make it easier to find clothing that is not harmful to the environment or the wearer.
* This post contains affiliate links. If you make a purchase, we may or may not receive a small commission which helps to support this site. Thank you!