I love tea and grew up drinking it. Even today I usually choose tea over coffee and enjoy the flavors that are available. With the shows we see on television like Downtown Abbey, having "tea" in the UK is still quite the tradition and it is a fun idea for Mother's Day too.
Make Mother's Day fun with a special tea for mom and the other special ladies in your life while serving finger-foods such as scones, tea sandwiches and petit fours. Indulging in a bit of British tradition within your own home is extra special when you add Nielsen-Massey Vanillas to your menu.
Try these tips:
* Add 1 to 2 teaspoons of Nielsen-Massey Madagascar Bourbon Pure Vanilla Extract to a pot of black tea along with cream or milk for the perfect vanilla-flavored centerpiece to your afternoon.
* While Devonshire or clotted cream is a traditional accompaniment to scones, if you prefer a lighter whipped cream, try adding 1 to 2 teaspoons of Nielsen-Massey Madagascar Bourbon Pure Vanilla Bean Paste to the cream, along with 2 tablespoons of powdered sugar, before whipping for a sweet, full flavor.
* For a lighter dish, pair a teaspoon of fruity and floral Nielsen-Massey Tahitian Pure Vanilla Extract with fruit salad for an additional depth of flavor.
Tie your Mother's Day menu together with the Vanilla Sugar-Crusted Scones recipe included below. Nielsen-Massey Madagascar Bourbon Pure Vanilla Beans and Pure Vanilla Extract make these scones a classic favorite that Mom is sure to love.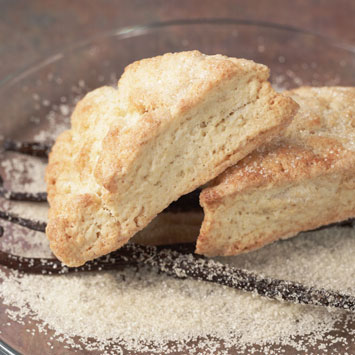 Vanilla Sugar-Crusted Scones
(Yield 1 to 1 ½ dozen)
1 Nielsen-Massey Madagascar Bourbon Vanilla Bean
3 cups all-purpose flour
1 tablespoon baking powder
1/3 cup sugar
1/2 teaspoon salt
6 oz. (1 1/2 sticks) unsalted butter, cut into small cubes
1 egg
2 teaspoons Nielsen-Massey Madagascar Bourbon Pure Vanilla Extract (or Organic Madagascar Bourbon Pure Vanilla Extract)
1 cup (or less) whipping cream
1/2 cup sugar
4 oz. (1 stick) unsalted butter, melted
Position an oven rack in the upper third of the oven and preheat to 400 degrees F. Line two baking sheets with parchment paper. Cut the vanilla bean lengthwise and scrape the seeds into a bowl; discard the bean. Combine the flour, baking powder, 1/3 cup sugar and the salt in a food processor container and process for 10 seconds.
Add equal amounts of the butter in three stages to the dry ingredients and process for 6 to 8 seconds per addition; the dough should have a slightly coarse texture. Place the dough in a large mixing bowl and make a well in the center. Add the egg, vanilla extract, 3/4 cup of the cream and the vanilla seeds. Stir with a fork 10-14 times awhile turning the bowl. Knead five or six times; the dough should hold together. Add enough of the remaining cream to reach the desired consistency if the dough does not hold together or seems dry.
Sprinkle 1/2 cup sugar on a work surface. Turn the dough onto the sugar work surface and knead gently so the dough holds together. Let rest for 3 to 5 minutes. Divide the dough into two discs 1 inch thick and 6 inch to 8 inch in diameter. Cut into wedges. Place the scones on the prepared pans. Brush with the butter. Bake for 17 to 20 minutes or until brown. Remove to a wire rack to cool.
A Marcy Goldman BetterBaking.Com Original Recipe for Nielsen-Massey.
Note: To experiment with a different flavor profile, try our Mexican or Gourmet Vanilla Beans. To replace the Madagascar Bourbon Vanilla Beans, simply use the same amount of the Mexican or Gourmet Vanilla Beans.
About Nielsen-Massey Vanillas
Throughout its more than 100 year history, Nielsen-Massey Vanillas has earned its reputation as a manufacturer of the finest extracts in the world. Visit them at www.nielsenmassey.com
Let us know how your Tea with mom turns out!
images and recipe, courtesy of Neilsen-Massey and used with permission