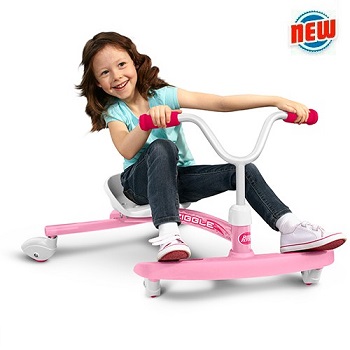 When our daughter was a little girl we purchased a little red wagon from Radio Flyer that she absolutely loved! She would play with that wagon for hours and we loved to take walks through our neighborhood pulling her along inside that wagon. Toys like that make for great family memories!
Now that we are grand parents we were looking around for something special for Gia to play with this summer. She already has a wagon and a bicycle with training wheels, so we were looking for something a little different. After a little searching, we did find the perfect item and I am excited to tell you about it today.
Before I get started with my review, I wanted to tell you about the Radio Flyer Birthday Club. If you join you will get a $10.00 gift card. See their site for complete details.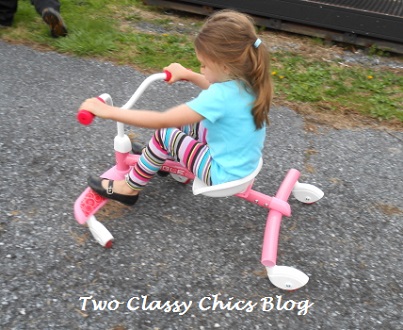 The Ziggle from Radio Flyer is available in 2 colors: Pink (perfect for little girls) and the classic Radio Flyer Red (perfect for boys or families with multiple children). This riding toy is for children ages 3 to 8 years with a weight capacity of 81 lbs.
Product Features:
* Solid Steel Frame
* Padded Hand Grips
* Adjustable Seat
* 360 Degree Spin-Out Action
* Four Caster Wheels
* Light-Weight (only 11.4 lbs)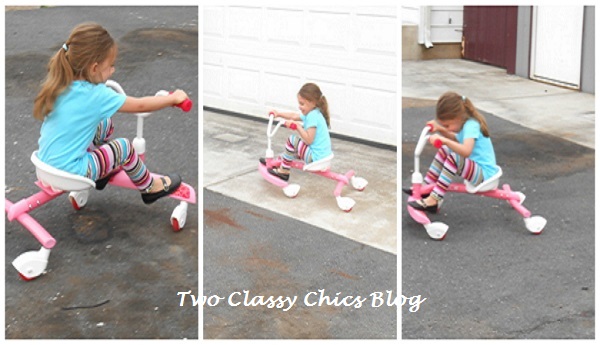 Our Thoughts: Once the Ziggle arrived to our home my husband immediately got it assembled. He spent 5 minutes reading the instructions and then used the included Allen Wrench and his own adjustable wrench to assemble it which took him less than 15 minutes, tops! Quick and easy, just the way he likes it.
The Princess came over the very next day and we had her sit on it so he could adjust the seat to her own height. What is really cool is that the seat will adjust and grow with your child. This took him less than a minute to do and once done…we all headed outside for some fun.
To make the Ziggle go your child has to "twist the front" and "wiggle the back" and the riding toy (bike as she calls it) takes off. Your child totally controls how fast or how slow it will go. Since your child has to twist & wiggle, it is great exercise for them in my opinion and all kids need more exercise these days and need to be outside playing in the sunshine & fresh air.
Check out the Ziggle video above to see it in action!
There is "grip tape" up where your child places their feet so you don't have to worry about their feet slipping off which is a really nice feature along with the cushioned handle bar grips.
The Princess tried out the Ziggle on several different types of surfaces: cement sidewalk, paved driveway, grass yard and down a dirt road. The Ziggle did well on all surfaces except for the grass, which she did have to work pretty hard to get it to go on the grass & then gave up. Other than that, it goes great on many different types of surfaces.
The Ziggle from Radio Flyer has quickly become her new favorite outdoor toy! Every time she is over at our house…she wants to be outside riding it and I have no problem with that! Anything to get our kids up & moving! When she rides it…she rides it for hours without getting bored!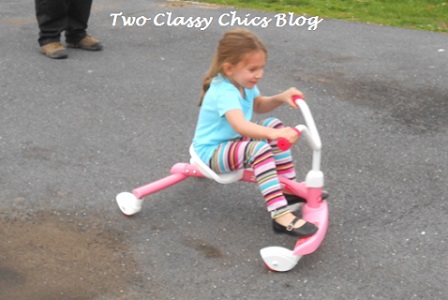 Overall, we are really impressed with the Ziggle and highly recommend it to all of you. It is the perfect riding toy for small kids this summer! You can learn more about this product and Radio Flyer by visiting their web site.
* This post contains affiliate links. If you make a purchase, we may or may not receive a small commission which helps to support this site. Thank you!

Disclaimer: Shelly has personally reviewed the product listed above. Shelly has not received any monetary compensation for her review. Shelly did receive a free product to try out so she could evaluate and use it for her review. Her thoughts & opinions in this review are unbiased & honest and your opinions may differ. Two Classy Chics is not responsible for delivery of any giveaway items won from this blog. We are not responsible for injury or mis-use of any products won from the Two Classy Chics Blog. Please read our Terms of Service & Disclaimer Policy before entering our giveaways. This giveaway is not affiliated with Facebook or Google+ in any way. Thanks!