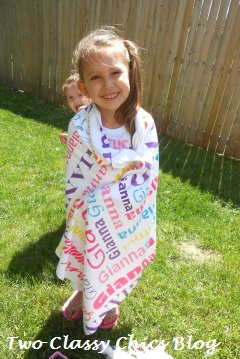 Summer is almost here and now is the time to get ready for the upcoming season. For me, that means buying new bathing suits, sandals, beach towels, tote bags, clothing and all of those fabulous things that mean Summer is here!
Last year while my family was on vacation we had a problem keeping all of our beach towels (pool towels) straight! We were always mixing up who's towel belonged to who! It was a nightmare at the beach house trying to keep everything sorted.
This year I am all ready for the beach and pool season and recently had the opportunity to review a child's beach towel from Joann Grace Design. In addition to the personalized towels, you can find blankets, pillow cases and adorable art too! I just love this children's boutique!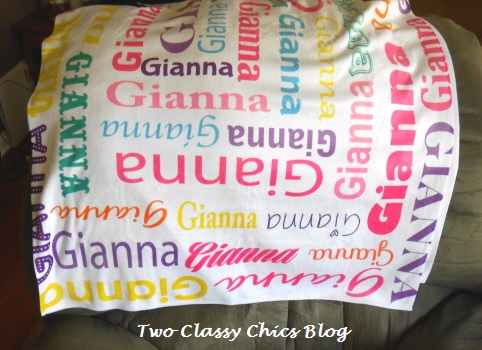 For the review, I selected a microfiber towel and had it personalized with my 5 year old grand daughter's name. The towel measures 30″ by 60″ in size and is made out of the softest microfiber that I have ever felt!!! What is great about microfiber is that it absorbs water quickly and is dry in no-time at all. The perfect fabrication for bath, beach and pool towels!
The workmanship is just impeccable! The printing "Gianna's name" is crisp and clean. The edges going around the towel are beautifully finished off, straight edges and absolutely NO loose strings or fabric pulls. Did I say impeccable yet? Well, I really mean it!!!
On top of that, it comes beautifully packaged (all folded up and topped off with a netting/mess ribbon bow). Presentation is fantastic if you are buying one and presenting it as a gift.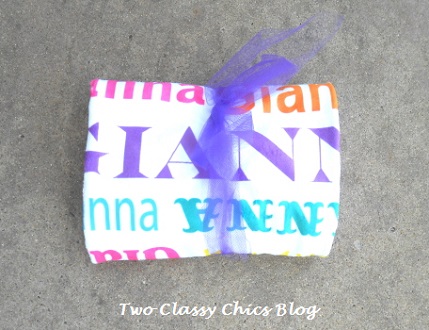 We are leaving for vacation in 10 days and this towel will be traveling with us. For the purpose of the review, I have been letting Gia use it after she gets a bath or shower. She loves how soft it feels against her skin and it is very lightweight, so it's great for children to handle with ease.
Overall, We love this towel and give it 10 stars out of 10 stars! I honestly can NOT think of one thing that would improve this product at all. Perfection at best!

Disclaimer: Shelly has personally reviewed the product listed above. Shelly has not received any monetary compensation for her review. Shelly did receive a free product to try out so she could evaluate and use it for her review. Her thoughts & opinions in this review are unbiased & honest and your opinions may differ. Two Classy Chics is not responsible for delivery of any giveaway items won from this blog. We are not responsible for injury or mis-use of any products won from the Two Classy Chics Blog. Please read our Terms of Service & Disclaimer Policy before entering our giveaways. This giveaway is not affiliated with Facebook or Google+ in any way. Thanks!