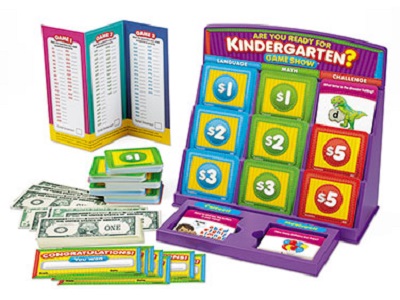 Lakeshore has been selling quality educational toys since 1954 and is a brand that parents and teachers turn to when they want the very best for their children. When our daughter was a little girl, Lakeshore is one company that I always turned to when it came to purchasing toys because it was a brand that I knew and trusted. Now that I am a grandmother to an almost 5 year old, I still look to Lakeshore for high-quality educational toys and games.
The company sent us the "Are You Ready for Kindergarten? Game Show" game to review for all of you. This fun & educational set is made for children ages 4 and up. The princess will be attending full-day kindergarten this Fall so we were excited to get this set into our hands to see how prepared she was. Even if your child isn't prepared, this set will help your child prepare for their first year in school.
Product Info: Is your child ready for the upcoming school year? Find out with the super-exciting quiz game show! There are 6 different games within this set that allow your child to earn pretend cash for each math & language question he or she answers correctly. After completing each game, your child wins a reward coupon and is treated to the prize of your choice! The site will instantly pinpoint any areas where your child needs additional help, provide free printable activities, plus product recommendations to build skills even further.
The 6-game set includes 198 playing cards, a game stand with a discard tray, play money, reward coupons and a score tracker to record the game results. Game stand is 11 1/4″ high.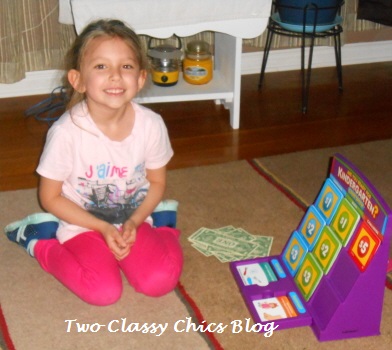 Our Thoughts: As previously stated, the set comes with 6 card games that ask your child various questions. If your child gets the answer correct, you put the card on the correct pile. If they get it incorrect, you place it on the incorrect pile by using the included game stand. Examples of some of the included questions/cards:
* Name the letters on the butterflies (shows a photo of 3 butterflies and your child needs to name the correctly shown letters.
* The tree snakes card shows a photo of 3 tree snakes hanging in a tree. Your child must show you which snake shown is the longest.
* Pretty, Pretty Please is a card that shows a mouse with several pieces of cheese. Your child must count those pieces and give you the correct answer.
Some of the cards pertain to recognizing colors, shapes, sizes, ABC's, counting, pattern recognition and so forth. A very well-rounded and nicely balanced collection of cards & questions which are definitely appropriate for 4 and 5 year olds. There are 198 questions/cards in total and you can easily take this set on the go with you during car rides, Summer vacation, trips to grandma's house, etc. I love how portable the game is.
For the past couple of weeks we have been sitting down with the Princess and playing the games. I am really surprised that she is getting 93 to 95% of the answers correct! Yay!!! The few she has gotten wrong, we went over those with her and she now gets those correct. It helps you the parent know if your child is ready for Kindergarten and if not, which areas need improved upon. For $29.99 it is well-worth every penny and is really a fun & entertaining game system!

Disclaimer: Shelly has personally reviewed the product listed above. Shelly has not received any monetary compensation for her review. Shelly did receive a free product to try out so she could evaluate and use it for her review. Her thoughts & opinions in this review are unbiased & honest and your opinions may differ. Two Classy Chics is not responsible for delivery of any giveaway items won from this blog. We are not responsible for injury or mis-use of any products won from the Two Classy Chics Blog. Please read our Terms of Service & Disclaimer Policy before entering our giveaways. This giveaway is not affiliated with Facebook or Google+ in any way. Thanks!