Young love is such a fun subject to write about and this new book I was able to review brings to life the story of a first love that are only in our dreams … and in great books too. I was looking forward to checking out this book due to the theme and I was not disappointed. This is a writer that you need to check out.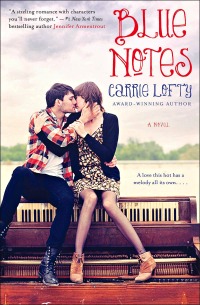 Blue Notes by Carrie Lofty
Publisher: Gallery Books
Publication Date May 6, 2014
ISBN-13: 978-1476706894
Synopsis:
Carrie Lofty brings her "exciting, sensual" (RT Book Reviews ) romantic storytelling to a sizzling new adult novel of a gifted pianist with a troubled past, the enigmatic stranger who unlocks her secrets, and sultry nights of passion in the Big Easy.
A piano prodigy on a scholarship to a prestigious New Orleans university, Keeley Chambers is finally striking out on her own after a roving life dictated by her criminal parents. Her soulful, brilliant, fiery improvisations tear through her like a storm but are played for an audience of one: herself. However, sinfully handsome Jude Villars refuses to abandon Keeley to her private world and calls her out on her fear of performing in public. The irreverent, seductive billionaire playboy awakens Keeley to the blissful pleasures of letting go as he tempts her into the spotlight of the city's hottest clubs. Yet Jude has secrets of his own and pain that no one but Keeley recognizes. Will revealing themselves as they really are be too great a risk? Or will the truth make their tumultuous connection hotter and more irresistible than ever?
My Thoughts:
This book has what I will call a lot of heart. I loved the concept of the story and the storyline. The characters are memorable and the author created them with passion for their careers, life and each other. They meshed well together and the story flowed nicely, without being forced.
I could not put this book down for some reason. The author did a fabulous job creating a story that is believable, fresh and full of rich detail. When Keeley is performing you can feel the excitement and power in the room and the changes in her. I could really identify with her and her development through the book. Jude is the perfect match for Keeley and their strengths and weaknesses blend together wonderfully. The author did a fabulous job developing the story thoroughly.
This book was one that I will remember for a long time. Even after finishing it, I would think about the story and I even dreamed about it too. For some reason, it really left a mark with me and I am not sure why. I really enjoyed this book and I will be looking up some of the author's other books as well. This is definitely one to check out for a great summer read that will take you into the depths of New Orleans and into the lives of several memorable characters.

Disclaimer: Chris Carroll has personally reviewed the product listed above. She has not received any monetary compensation for her review but did receive a free product to try out so she could evaluate and use it for her review. Her thoughts & opinions in this review are unbiased & honest and your opinions may differ.