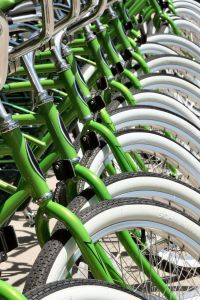 With nicer weather finally showing up this spring, now is a great time to think about ways to change your exercise routine to shake it up a bit. Bike riding is a wonderful exercise that is good for building strong muscles and bones as well as enjoying yourself outdoors too. If you are new to buying a bike or it has been many years since you have bought one, here are some tips for buying a new bike that will help you find just the right one for you.
The first thing to know is that typically bicycles purchased from a bike shop are of better quality than those purchased at a discount store. Deciding on where to buy your new bike and setting your budget will make the choice a bit easier. So….
1. Set a budget for your new bike and shop around to compare prices and features. Take your time to find the perfect bike at the perfect price!
2. When trying out a new bicycle it is important to consider the weight and size of the bike. It should be proportionately sized to your individual body so that its easy for you to handle and ride.
3. The shape and size of the seat is one of the most important things to look at when it comes to comfort. Sit on the bike for several minutes to see if its the right size and shape for you. If not, a seat can be easily changed out with another one.
4. Check out the bike's pedals and make sure that your feet fit comfortably on them. If not, request a different set of pedals.
5. What kind of tires does the bike have? Are these tires seasonal or all-weather tires? Are they properly inflated? Do they have a good tread on them?
6. What kind of warranty does the bicycle come with if any? If it doesn't have one, can you purchase one for an additional fee? Are you comfortable with the terms of any warranty program that may be offered? Make sure you read the fine print to see if you are responsible for any deductibles or co-payments.
7. If possible, take the bike on a short ride through the parking lot or around the block if the bike shop allows it. Often times this is the BEST way to get a genuine feel for it.
Have fun this spring and summer and get fit in style with a beautiful new bike that fits you to a T.
* This post contains affiliate links. If you make a purchase, we may or may not receive a small commission which helps to support this site. Thank you!