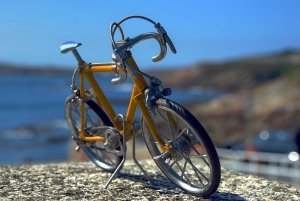 When my husband and I were both younger…we loved to get on our bicycles and cruise around the neighborhood during the weekends. Then our lives got busy and we quit riding our bikes for many years. Well, that is all about to change and starting this year…we are getting on our bikes again for some much needed relaxation and exercise!
A few days ago I was looking around on the internet for some bike riding inspiration and came across several sites that featured some great quotes. I picked 12 of our favorites, printed them out and have them "tacked" on our memo board in the family room.
Here are the 12 bike riding quotes that we selected for inspiration.
"If you worried about falling off the bike, you'd never get on." – Lance Armstrong
"The bicycle is a curious vehicle. Its passenger is its engine." – John Howard
"The hardest part of raising a child is teaching them to ride bicycles. A shaky child on a bicycle for the first time needs both support and freedom. The realization that this is what the child will always need can hit hard." – Sloan Wilson
"The bicycle has done more for the emancipation of women than anything else in the world." – Susan B. Anthony
"Life is like a 10-speed bicycle. Most of us have gears we never use." – Charles Schultz
"The bicycle is just as good company as most husbands and, when it gets old and shabby, a woman can dispose of it and get a new one without shocking the entire community." – Ann Strong
"Nothing compares to the simple pleasure of a bike ride." – John F. Kennedy, U.S. president
"Life is like riding a bicycle – in order to keep your balance, you must keep moving." – Albert Einstein
"For instance, the bicycle is the most efficient machine ever created: Converting calories into gas, a bicycle gets the equivalent of three thousand miles per gallon." – Bill Strickland, The Quotable Cyclist
"Melancholy is incompatible with bicycling." – James E. Starrs
"If constellations had been named in the 20th century, I suppose we would see bicycles." – Professor Carl Sagan
"The bicycle is the noblest invention of mankind." – William Saroyan