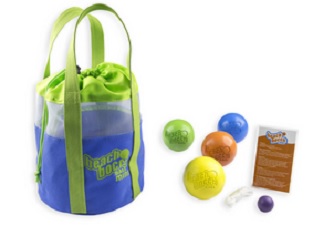 We love to spend time outdoors in our backyard, at the local park or down at the beach when visiting our beach house. One of the things we enjoy as a family is playing a lot of fun outdoor games! We love bocce ball, yard darts, corn hole, ring toss and a whole host of other backyard games.
SeaTurtle Sports is your go-to source for fun games like Bocce Ball, Turtle Toss, Yazoo and Turtle Disc. They also have some really cool summer accessories that you can pick up there too!
The company sent us their new Beach Bocce Ball Mini game to try out for all of you. As you all know, we were slammed this past winter here on the east coast with nasty weather, so we were itching to get out into our backyard for some family fun!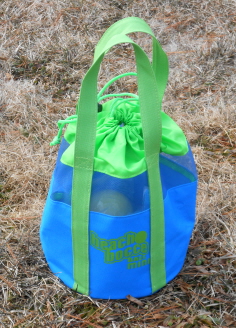 The Beach Bocce Ball Mini comes with its own carrying/storage bag so that you can easily transport it around and keep it all together which is really nice.
Product Features include:
* Four (4) balls in bright beach colors, made of tough synthetic polymers and injection-molded. Durable and shock resistant – won't crack, chip or rust. Balls are Petanque size (the French version of Bocce) – which is 74 mm, or 3 in., in diameter.
* One (1) Jack (target ball) made from the same impact-resistant material.
* One (1) string for measuring those ball placements too close to measure with the naked eye.
* One (1) durable carrying bag designed for easy portability.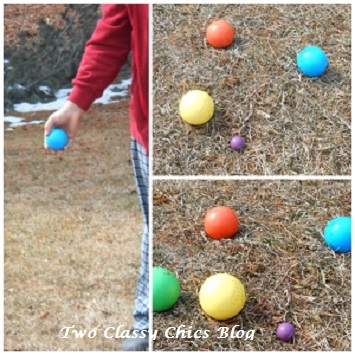 We finally had a nice mild weekend here in Pennsylvania and the family was getting together for a backyard barbecue. My husband and my 15 year old nephew decided to try out the new Beach Bocce Ball Mini Set that afternoon and let me tell you…they played that game for over 2 hours!!! It is a really nice set!
Just because it is made for the beach, you can certainly play the game with it in your own backyard. The balls are a really nice weight and thanks to the colors…they are easy to spot when playing the game in grass or in sand.
When we go down the beach house next month, we are taking the set right along with us! Matter of fact, we will be keeping the set down there so that we can play the game on the beach every time that we visit. I love that with this mini version, you only need two players to play so it is perfect for hubby and I when we are down there. A mini set is PERFECT for those with small families or for families who don't want to lug around a heavy, full set.
We love it! It is extremely well-made and that carrying bag is absolutely perfect! Most bocce ball sets come in cardboard boxes which tear apart over time…having a bag like this is just fabulous!
Head on over to SeaTurtle Sports and take a look around. Now that spring is here and summer is on its way, now is the time to pick up your outdoor games!
* This post contains affiliate links. If you make a purchase, we may or may not receive a small commission which helps to support this site. Thank you!

Disclaimer: Shelly has personally reviewed the product listed above. Shelly has not received any monetary compensation for her review. Shelly did receive a free product to try out so she could evaluate and use it for her review. Her thoughts & opinions in this review are unbiased & honest and your opinions may differ. Two Classy Chics is not responsible for delivery of any giveaway items won from this blog. We are not responsible for injury or mis-use of any products won from the Two Classy Chics Blog. Please read our Terms of Service & Disclaimer Policy before entering our giveaways. This giveaway is not affiliated with Facebook or Google+ in any way. Thanks!