I am so excited to be able to share a new book with you today. With a glimpse of time travel and immense creativity, I was able to review a brand new book based in Scotland. If you love history and creative stories, you are going to want to check out this review and this book!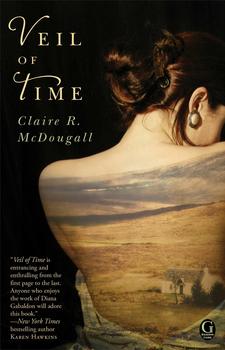 Veil of Time by Claire R. McDougall
Publisher: Gallery Books
March 11 2014
ISBN-13: 978-1451693812
Synopsis:
A compelling tale of two Scotlands—one modern, one ancient—and the woman who parts the veil between them.
The medication that treats Maggie's seizures leaves her in a haze, but it can't dull her grief at losing her daughter to the same condition. With her marriage dissolved and her son away at school, Maggie retreats to a cottage below the ruins of Dunadd, once the royal seat of Scotland. But is it fantasy or reality when she awakens in a bustling village within the massive walls of eighth-century Dunadd?
In a time and place so strange yet somehow familiar, Maggie is drawn to the striking, somber Fergus, brother of the king and father of Illa, who bears a keen resemblance to Maggie's late daughter. With each dreamlike journey to the past, Maggie grows closer to Fergus and embraces the possibility of staying in this Dunadd. But with present-day demands calling her back, can Maggie leave behind the Scottish prince who dubs her mo chridhe, my heart?
My Thoughts:
It is not often that you can get a glimpse of what it is like inside someones head, but that is exactly what you see when you read this insightful book. This is a very unique read and includes time travel between today and the 8th century. Written by a native of Scotland, the author takes us on a wild journey through the dreamlike seizures of Maggie, to a time of witches, Kings and royalty and back again to reality.
I was intrigued by this book from the first page. I love the authors writing style even though it took me a few pages to fully comprehend. With the differences of the ages, the Scottish language pieces thrown here and there and just the difference in culture, a beautiful story imparts. A love story of sorts.
But Maggie is also fighting reality. A failed marriage and a son that is angry at her and a surgery on the way that could save her life. Maggie decides to escape to the middle of no where and work on her old thesis that has to do with witches and druids and Old Scotland. Soon you realize that are being taken back and forth between reality and her dreams. In many places it was hard to discern where you really were yet it all blended together beautifully, a true mark of a wordsmith.
This book is totally different from what I normally read but I loved the back history of Scotland and the glimpses you get into a medical condition and the power of your brain. Veil of Time is a thoroughly interesting, wonderfully crafted story that takes you through a journey of a thousand years. Very creative and fun!

Disclaimer: Chris Carroll has personally reviewed the product listed above. She has not received any monetary compensation for her review but did receive a free product to try out so she could evaluate and use it for her review. Her thoughts & opinions in this review are unbiased & honest and your opinions may differ.