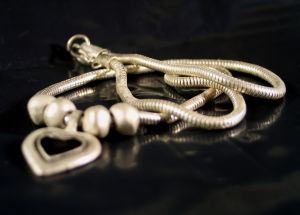 If you have been shopping for necklaces or neck chains lately, you may have noticed that there are several different types of chains that you can choose from. Most people don't realize that these have names or that there is a difference in chain selections. Here are several of the most popular chain choices that are in the marketplace today and how to tell them apart to choose the right chain for your purpose.
Box Chain: A box chain is one of the most popular chains that are usually found with pendants of some sort hanging off of them. The chain is made from links that look like small boxes and because of that it is a very durable chain to use and strong enough to hold pendants securely. The box chain is made in multiple lengths, especially 16″ and 18″ and you can find it a multiple types of metals.
Herringbone Chains: The Herringbone chain is created when 2 or more rows of metal slats are connected together. This type of neck chain lays flat against the neckline and depending on the thickness of the chain, it may or may not have the ability to hold a pendant. Many chains made in the Herringbone pattern are worn alone.
Rope Chains: A rope chain is made to look like a rope. This chain is a popular choice in longer lengths and both men and women can wear this style of chain easily. Rope chains are a good choice when you are looking to hang a heavy pendant on it and it makes a nice fashion statement piece as they tend to run a lot thicker than a regular box chain.
Curb Chains: Curb Chains are made when oval links are connected together to form the neck chain. These are mainly seen in womens jewelry. This style is a popular choice for finer, lightweight jewelry in the curb style and appears very delicate. They may also be called a Figaro chain but that is when they are much thicker and made for a man.
These 4 styles are the main ones that we see on a regular basis when shopping for necklaces and chains to wear. by choosing the right chain for your purpose and how it will be worn, your necklace will stand up to more abuse and will not break as easily.
* This post contains affiliate links. If you make a purchase, we may or may not receive a small commission which helps to support this site. Thank you!