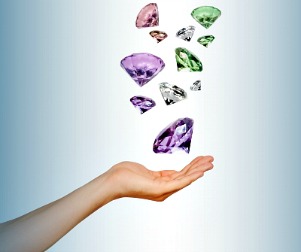 Jewelry that is full of shine and shimmer is a lot of fun to wear. But over time that shine will dull and the sparkle can fade. Swarovski crystals are extremely popular in today's jewelry due to its brilliance so making sure that your Swarovski jewelry is cared for and clean will mean you can enjoy wearing it more often.
Here are some tips you can use to care for and clean your Swarovski Crystal Jewelry.
Cleaning your crystal jewelry is relatively easy. First of all you do not want to use any type of ultra-sonic jewelry cleaning machines or any abrasive jewelry cleaners. All you need is a small bowl of warm water, gentle dish soap, lint free or jewelry cloth and a soft brush, like an old toothbrush.
1) If your piece is very dirty, you can use the warm water and mild soap and gently clean the piece, using the toothbrush lightly between links. Do not scrub!
2) Rinse the soap off and dry with the lint free cloth
3) Do not use this method if your piece has pearls or soft stones. Only wipe it down with warm water and a soft cloth
4) Dry your jewelry thoroughly or allow to air dry completely.
Additional Tips on the Care of your Swarovski jewelry
• Do not wear your Swarovski jewelry while swimming or bathing as the chlorine can damage and dull the stones.
• Make sure to put your jewelry on after applying any makeup, perfumes and hairsprays as they can discolor the stones and cause a sticky residue to build up.
• Store your pieces separately from other jewelry so there are no scratches or damage to your piece.
By caring for your Swarovski jewelry correctly, you will have a glamorous piece that will last you for many years to come with all of the shimmer and sparkle you love.
* This post contains affiliate links. If you make a purchase, we may or may not receive a small commission which helps to support this site. Thank you!