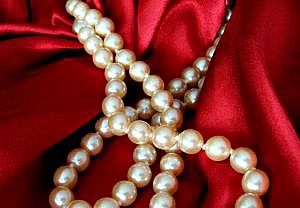 Pearls are nature's jewels and they have been delighting women through the ages. Even today, the popularity of pearls has not diminished. Now you can find cultured pearls in fabulous colors of the rainbow like lavender, brown, grey and black for beautiful accompaniment to your fashion style. Caring for your natural and cultured pearls is something that we need to do so that we can enjoy them for a lifetime and even pass them to the next generation.
Caring for your pearls is really not difficult but there some tips and trick that you may want to know so that the luster and shine we love remains. Here are a few things you can do:
• Never allow your pearls to come into contact with sprays, perfumes, cosmetics, oils and similar irritants
• Never use any kind of commercial cleaner on your pearls
• Do not exercise while wearing your pearls as perspiration can discolor them
• Pearls keep their luster from being worn and loved but you also want to wipe off your pearls before and after wearing to remove dirt and natural oils
• Store your pearls in a silk pouch or in a fabric lined compartment of your jewelry case, separate from other jewelry
• Make sure that the clasps from bracelets or necklaces and posts from earrings are not in contact with the actual pearls. Each piece should have its own storage pouch
• Never store your pearls in any kind of plastic bag as they need air and moisture to remain lustrous and not crack
• Pearls are strung on natural silk cords so make sure that you check the knots before wearing and if you wear your pearls often, have them restrung every year or two
It takes just a few minutes to care for your natural and cultured pearls properly. Making sure your pearls are well cared for will bring you years of enjoyment.
* This post contains affiliate links. If you make a purchase, we may or may not receive a small commission which helps to support this site. Thank you!