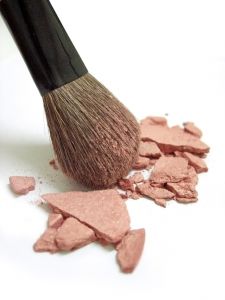 Bronzer is an item that doesn't get much attention in the cosmetic area as a useful beauty tool. In fact, many people I have talked to don't know what it is for or how to use it. A nice Bronzer can be a great beauty addition for your makeup kit with a few tips and tricks on its use, so I think it is not one to be overlooked.
What is a bronzer specifically? It is a powder that can be found in many forms; in a compact, like a blush; as a loose mineral powder or in bead form. All of these forms would be applied the same way – by using a face brush much like a kubuki or blush brush.
Most of the time you may hear about a bronzer is during the warmer summer months when it can be used as a way to add some color onto your face without the effects of sunning. A nice Bronzer will add a golden kiss of the sun and offer a nice alternative to full makeup, if you choose. I prefer a mineral one due to its fine properties and you may even find a few that add some shimmer to it for a bit more highlighting on your skin.
There are several uses for keeping a bronzer on hand all year round. Here are a few ways that you can use it for great looking results.
* Run the bronzer down your nose for additional lengthening and a touch of color
* Works wonderfully in place of a blush
* Use it to contour cheeks and jawline for more definition
* Use it as an eye shadow to define and enhance your eye
* Use it lightly as a setting powder after you apply all of your other makeup
A bronzer is a great tool to keep on hand. The range of colors is mainly within the golden glow – sun kissed range and it will add additional color and sparkle to your face anytime of year.
* This post contains affiliate links. If you make a purchase, we may or may not receive a small commission which helps to support this site. Thank you!