** Beauty and Fashion Event Feature **
The Spa Sonic Face & Body Polisher comes in a 7-piece kit to give you professional results. Using this product will help to promote younger looking skin, it will improve your skin's texture and help to reduce pore size.
 7-Piece Professional Kit Includes: 1 Polishing Unit, 2 Small Facial Brushes, 1 Large Body Brush, 1 Facial Buffer, 1 Pumice Stone and 1 Battery 4-Pack.
* Previously only available in spas.
* Recommended by dermatologists.
* Cutting edge of cleansing technology.
* Improves skin's tone, look, feel & texture immediately.
* Waterproof – use in tub, shower and/or sink.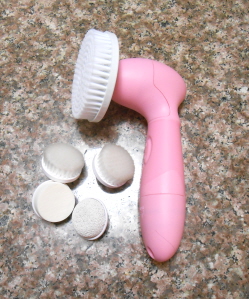 This system gently exfoliates, cleanses & smooths entire face and body. It helps to tighten pores and reduces the appearance of fine lines. It promotes the rapid absorption of skin care products and you can use it with your favorite cleansers and moisturizers.
The removable rotating heads offer a variety of benefits. The small facial brush cleanses your face by getting down deep into your pores. The large body brush cleans your entire body deeper than loofah and body sponges. The facial buffer aids in absorption of moisturizers to erase fine lines and dark spots. The pumice stone attachment can smooth out rough areas such as elbows, knees and heels.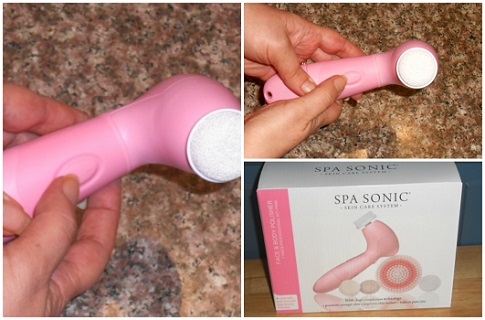 My Thoughts: Last year I invested in a similar system that only came with three brush head attachments. I used that thing until it fell a part. With that said, it wasn't as nice as this one and certainly didn't come with all of the attachments that this one comes with. Furthermore, it ate up the batteries and was heavy in its weight.
This Spa Sonic Face & Body Polisher is fantastic! It is light-weight and fits comfortably into my small hands. The attachments are very easy to change in and out. I love using the large body brush all over my body and the bristles are soft…tickles the skin in a pleasant way. I use the pumice attachment on my knees & heels and it does a fabulous job at sloughing off all of my dead skin in those areas.
My favorite two attachments are the small face brush and the small facial buffer. I use those two attachment every day! I prefer to use the system before bedtime with my favorite cleanser. It takes off all of my makeup and gets my skin nice and clean. I then apply my facial moisturizer which rapidly absorbs into my skin since it doesn't have any dead skin to penetrate.
Even if you have super sensitive skin…you can use this system! Since I started using it last month my skin looks 50% better than it did. I no longer have dry patches of skin, my face looks healthy and it glows. Really easy to use and only takes about 5 minutes of your time to use it.
In my opinion, I am giving it 9 1/2 stars out of 10 stars on my rating scale. I only deducted a 1/2 star as I would love to see it come with replacement and extra brushes…a larger sized kit!
* This post contains affiliate links. If you make a purchase, we may or may not receive a small commission which helps to support this site. Thank you!

Disclaimer: Shelly has personally reviewed the product listed above. Shelly has not received any monetary compensation for her review. Shelly did receive a free product to try out so she could evaluate and use it for her review. Her thoughts & opinions in this review are unbiased & honest and your opinions may differ. Two Classy Chics is not responsible for delivery of any giveaway items won from this blog. We are not responsible for injury or mis-use of any products won from the Two Classy Chics Blog. Please read our Terms of Service & Disclaimer Policy before entering our giveaways. This giveaway is not affiliated with Facebook or Google+ in any way. Thanks!