As you all know, I have a 4 1/2 year old little grand daughter who spends a lot of time here at our home. We are very fortunate that we see her all of the time and get to have a very close relationship with her.
The princess enjoys staying overnight at Nanny's house and when she does, I a responsible for giving her a bath or shower. Afterwards, doing her hair is a real struggle because she has long, thick hair that easily gets tangled. Needless to say, she doesn't like me brushing her hair…until now!
Recently we were sent a complimentary SMOOBEE, the Magic No Cry Brush to review for all of you. This hair brush has been a lifesaver here in our home!
Why is the SMOOBEE so fantastic?
* SMOOBEE Works! It has a five part engineered system that makes the tangles go away without having your child in tears.
* It is super cute and kids love the colorful appearance of it! You can get one in pink, purple, blue or turquoise. It is made of solid wood, so it won't break easily and it fits comfortably in your hand.
* The SMOOBEE can be Bedazzled! You can customize the look of your hair brush with colorful stick-on faux jewels which is really fun & cute!
* It can be used on baby fine hair or thick hair. It can be used on wet hair or dry hair. It is for boys, girls or even us adults! It is parent-tested, parent-approved and an award winner!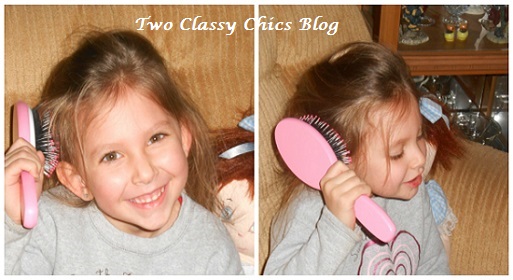 We have been using the SMOOBEE for several weeks now and LOVE it! Heck, I even find myself snatching it and using it through my own hair when the Princess isn't looking. Please don't think that this brush is only for children, its not! It is a full size hair brush!
It glides right through her hair (wet or dry) and doesn't tug or pull at her hair at all. Those tangles definitely seem to just disappear like magic! She will now sit still and let Nanny brush her hair without complaining or shedding a tear. This is ONE fabulous product and I sure could of used this 28 years ago when Jenelle was a little girl. I am pretty happy to have one now that I can use on the grand princess, so I will settle for that!
* This post contains affiliate links. If you make a purchase, we may or may not receive a small commission which helps to support this site. Thank you!

Disclaimer: Shelly has personally reviewed the product listed above. Shelly has not received any monetary compensation for her review. Shelly did receive a free product to try out so she could evaluate and use it for her review. Her thoughts & opinions in this review are unbiased & honest and your opinions may differ. Please read our Terms of Service & Disclaimer Policy before entering our giveaways. This giveaway is not affiliated with Facebook or Google+ in any way. Thanks!