I am a huge fan of all-natural products, especially when it comes down to our skin. That's why I couldn't wait to review several products sent by Siena Soap Company!
Any soap can clean your skin. But not just any soap can clean, nurture, and maintain skin like Siena Soap. Some people may have sensitive skin, (like I do) and regular, name brand soap can be too abrasive with the kind of chemicals put in. I noticed that my skin wouldn't get that dry, tight feeling with my Siena soap like my old kind of bar soap. Instead, my skin felt fresh and moisturized for most of my day.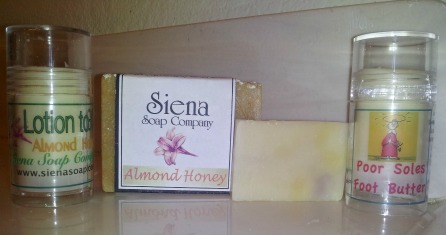 I received a Siena Soap Almond Honey 4 oz. bar soap. It smelled SO good and felt even better! I also received approximately 1 oz of a Lullaby Lavender bar soap. It smelled great also, plus its fragrance stayed with me for most of my day.
Another item I was given was the All-natural Lotion to Go in Almond Honey. It complimented the Almond Honey bar soap so well. It was wonderful in keeping my skin soft. The lotion was super easy to use. Plus, I loved the size of it, small enough to take anywhere so it was convenient to not forget to lotion up! And, although it is small, I got a lot of use out of it (still have).
Poor Soles Foot Butter was probably my favorites to review because it is truly a necessity for me personally. It rolled on very easily and provided instant relief from my dry, cracked feet. It leaves my soles smooth as well as feeling and looking better.
With these items are all made natural with essential oils and different extracts, it's nice to know that I can smell and feel great without damaging my skin.
All of these products were great. They are all items that I would love to continue to have and use. Siena Soap Company has a great selection of all-natural soaps and lotion bars. Its the luxury of all-natural products without the cost of all-natural!

Disclaimer: Ruby has received no compensation for this post but was given free product for purpose of review. Her opinions and words are her own. Your thoughts & opinions may differ. Please read our Official Rules before entering this giveaway. We must receive all entries by the end date of the contest and the odds of winning are determined by the number of entries received. No purchase necessary to enter. All Content on this site is Copyright of the Two Classy Chics All Rights Reserved.