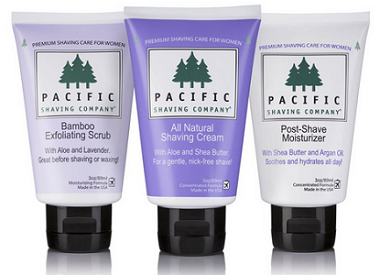 Pacific Shaving Company began in 2002 to improve the shaving experience. The result is a line of natural, eco-friendly and affordable shaving essentials. Their philosophy is simple: Create shaving products that are good for the skin, good for the wallet and good for the earth.™ Made from a unique blend of natural, safe and organic ingredients, Pacific Shaving Company's products lubricate the skin to protect is from razor burn and allow for a close shave. Instead of drying and irritating, their products improve the quality of your skin, leaving is supple, moisturized and soothed.
All of these products are manufactured in the USA and their small product sizes mean fewer raw materials, less waste and fewer carbon emissions throughout the supply chain. Pacific Shaving Company also works to replenish the minimal packaging materials they do use by planting a tree for every purchase made – ultimately leaving a negative footprint.
Before agreeing to review any products for Two Classy Chics, I believe it is important to research the company to see if it is even a product worth reviewing. The biggest decision for most of my reviews is the company's story and mission. With their beliefs and mission alone, it was no question that I wanted to try Pacific Shaving Company's three-step shaving system.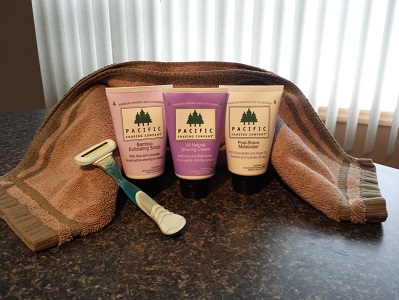 I think we can all agree how much of a pain shaving is. I absolutely despise it. It takes entirely way too long and the aftermath is just as bad as the shaving itself. The worst is how my legs feel after. Even when I use moisturizer lotion, my legs still feel dry, itchy and irritated. I was pleasantly surprised the first time I used the three-step shaving system. Of course I was a little skeptical, but it really does work.
Before my shave, I use the Bamboo Exfoliating Scrub which feels amazing on my skin. It really helps to rid my legs of dry skin allowing an easier shave. After the scrub is when I use the all-natural shaving cream. With other shaving creams, I felt that I had to use so much, but with the all-natural shaving cream, you only need a little to get the job done. You will be amazed how smooth your legs feel once you are done using the shaving cream. Last, but not least, comes the post-shave moisturizer which will give your skin all day hydration.
I love using this three-step shaving system for all of my shaving routines: legs, knees and ankles, bikini line and under arms. Say goodbye to your old habits and hello to this! You can purchase this three-step shaving system as a whole or each product separately. Pacific Shaving Company also has a three-step shaving system for men and many other products to try. So act today and invest in hydrated smooth skin! You will not be disappointed.
* This post contains affiliate links. If you make a purchase, we may or may not receive a small commission which helps to support this site. Thank you!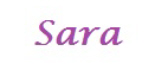 Disclaimer: Sara M has personally reviewed the product listed above. Sara has not received any monetary compensation for her review. Sara did receive a free product to try out so she could evaluate and use it for her review. Her thoughts & opinions in this review are unbiased & honest and your opinions may differ. Two Classy Chics is not responsible for delivery of any giveaway items won from this blog. We are not responsible for injury or mis-use of any products won from the Two Classy Chics Blog. Please read our Terms of Service & Disclaimer Policy before entering our giveaways.