Beauty treatments don't usually come from one company in particular; if they do they have varying ingredients and harsh chemicals that could irritate the skin. Argan oil is an all natural oil, rare, and a wonderful overall natural moisturizer found only in Morocco. It repairs and saturates moisture into dry face, skin, nails and hair. So when I found out that I was to review some Pura D'or Argan Oil products, I was ecstatic!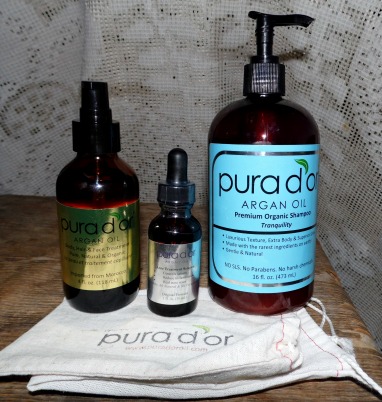 Pura D'or has created products made with pure Argan Oil specifically for the skin, hair, and nails. I was able to try three of these product to share with you.
The first of the three bottles I received was the Acne Treatment Solution (1 fl. oz.). I really liked it. I don't really have excessive problems with acne, but unfortunately, my skin has had it's moments. Maybe it's my bad diet, stress, or genetics! After only 1 week I have seen some improvement to my acne. I definitely have noticed that more haven't come up and my face feels good while using it. I've also seen the redness reduced on the one's I already do have. It's very gentle; none of that burn from the super-strong, chemical type of acne treatments. I like this product and I am pleased with the results so far!
I also got a bottle of pure and organic Argan Oil (4 fl. oz). It is in a spray, which was convenient for even coverage. It made my skin soft and clear. It also replaced my lotions for moisturizing my skin. With lotions, it takes too long and some are too greasy. The Argan Oil smelled great and left my skin feeling fresh. No harsh chemicals, sulfates, etc., it's USDA certified organic, so there are no harmful side-effects! There are so many nutrients in Pura D'or Argan Oil, the benefits go on and on! Basically, the nutrients in it make it a revitalizer, moisturizer, anti-aging, anti-inflammatory healthy oil and more.
The favorite item of mine I received for review was the Premium Organic Shampoo: Tranquility. I loved that it was organic, had all kinds of different types of oils, (natural argan oil, ylang ylang oil, imported amla oil, tea tree oil, rosemary oil, lavender, avocado) and other natural extracts.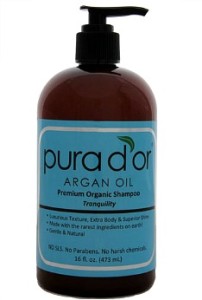 I've gone through all kinds of shampoos to try to fix my unruly head of hair. I have a really weird dual hair problem. My hair, at the root, gets oily very easy. Therefore, it gets flat very quickly. But from the middle to the ends of my hair, it is actually brittle… It was almost like straw! Yuck! So my dilemma was never truly solved before because there are shampoos out there that, to "moisturize" my hair, made the rest of my hair very flat and oily. Of course, there were others that were made for oily hair, and it would just make my hair completely dry! But with the Premium Organic Shampoo: Tranquility, my hair has gotten a wonderful balance. It's soft, manageable, smells great, has a great shine, and feels overall healthy. During use, I feel a wonderful lather not typical with other organic shampoos.
Especially since I have several issues with dryness, the Pura D'or Argon Oil items I received have already made an improvement to my hair and skin within just a week. These are products that I will certainly continue to use, and most likely extend my collection by adding the conditioner and perhaps also the Nail Therapy! Definitely a line you should look at if you have similar issues too!
* This post contains affiliate links. If you make a purchase, we may or may not receive a small commission which helps to support this site. Thank you!
Disclaimer: Ruby has received no compensation for this post but was given free product for purpose of review. Her opinions and words are her own. Your thoughts & opinions may differ. Please read our Official Rules before entering this giveaway. We must receive all entries by the end date of the contest and the odds of winning are determined by the number of entries received. No purchase necessary to enter. All Content on this site is Copyright of the Two Classy Chics All Rights Reserved.