One of my favorite stones to wear is pearls. My mother loved hers and had a special necklace and earring set made for me for my wedding from Mikimoto pearls direct from Hong Kong. It is a special set that I treasure and enjoy wearing often. While there is always a time to wear white pearls, I love the amazing colors and luster of Tahitian pearls too. So when I was asked to review and feature a Tahitian pendant for you, I was thrilled!
Pearl Paradise is one of the largest retailers of pearls and pearl jewelry and we have worked with them several times over the years. I have found their quality to be beautiful and their selection of different style of pearls to be amazing. The Tahitian pearl is a special stone that deserves special recognition.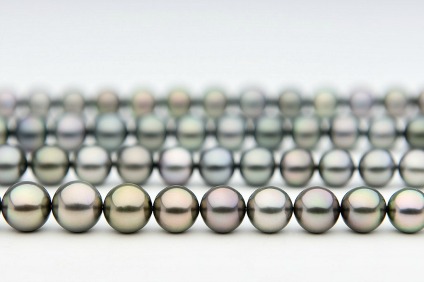 Over on the Pearl Paradise Blog, there is an article about how the Tahitian pearls are sorted for color, size and shape so that when you purchase a necklace, earrings or bracelet, you are certain that the pearls are matched as close as possible. This take hours and weeks of work to ensure that your set is perfect. When you see the images that are shared on their blog post, it becomes clear just how many shades of color are in a Tahatian pearl and you can really see the art of making Tahitian pearl strands that are created for sale. It is stunning!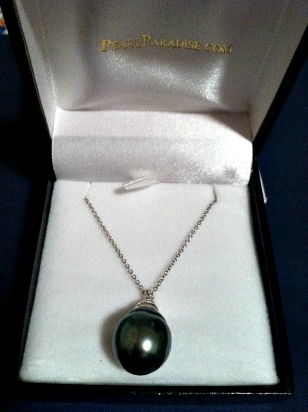 And so is the Tahitian pearl pendant that I was sent to review. I love pendants for the simple fact that they are a classic look that is always in style and appropriate for any occasion. I can wear this beautiful stone with casual clothes, for work or for an evening out and it will always look stunning. The luster on this pendant is tough to capture in a photograph but it is so lovely in the light. I love the color that appears black at first glance, but at close range, my stone has a slight greenish blue tinge of color they call peacock. Gorgeous! No stone that is naturally made is perfect and mine has just the tiniest of a flaw that is barely discernable but reminds you that this is natures gift. This drop is approximately 12mm and is a perfect size.
Tahitian pearls are more affordable today and come in strands of all lengths and in other jewelry pieces from Pearl Paradise. The chocolate ones are amazing too! If you are looking for the perfect Valentine gift for a special someone, you need to check out this site. There is a current special on the front page of their site that you can take advantage of this month.
* This post contains affiliate links. If you make a purchase, we may or may not receive a small commission which helps to support this site. Thank you!
Disclaimer: Chris has received no compensation for this post but did receive free product for purpose of review. Please read our Official Rules before entering this giveaway. We must receive all entries by the end date of the contest and the odds of winning are determined by the number of entries received. No purchase necessary to enter. Two Classy Chics is not responsible for prize fulfillment. All Content on this site is Copyright of the Two Classy Chics All Rights Reserved